Theatre
Les Entrailles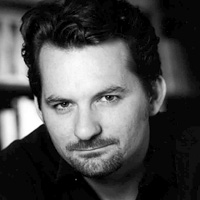 Claude Gauvreau ~ Les Entrailles
By Claude Gauvreau
Directed by Joël Beddows
Coproduced with Théâtre la Catapulte, in collaboration with Espace Libre
Presented in French.
Frédéric Chir de Houppelande writes fantastical poems. One day he decides to present his work as a stage show, a magical dance of cadavers, a young girl, a bitter soldier, the eternal figure of the Creator, and Man and Woman wounding each other. The stories they tell are strangely familiar: timeless tales of humanity and simplicity, all conveyed by Chir de Houppelande's transcendent verses.
For Théâtre la Catapulte, Joël Beddows directs this work by poet, playwright and polemicist Claude Gauvreau (1925-1971), the giant of the Quebec automatist movement. It's a bold journey to the heart of Gauvreau's writing, a fitting tribute to his total commitment to his art.
Claude Gauvreau (1925–1971)
Poet, playwright and polemicist Claude Gauvreau was born in Montreal in 1925. After completing classical studies at Collège Sainte-Marie, he studied philosophy at the Université de Montréal. His brother Pierre, a fine arts student, introduced him to modern art and to the painter Paul-Émile Borduas.
In 1947 Gauvreau wrote his play Bien-être with actress Muriel Guilbeault, the "incomparable muse." An unwavering militant of the Automatist Movement, he cosigned Borduas' 1948 Refus global manifesto.
Shortly afterward, his fragile mental health was shaken by Muriel Guilbeault's suicide. Despite several sojourns in psychiatric wards, Claude Gauvreau kept on writing: Beauté baroque (1952), a fictionalized biography of Muriel Guilbeault, was followed by several radio plays between 1952 and 1969. In 1954 he organized the last automatist group exhibition, La matière chante. In 1956, convinced he was about to die, he wrote La charge de l'orignal épormyable, which was produced in 1974 by Le Théâtre du Nouveau Monde.
Gauvreau then wrote his masterwork, Les oranges sont vertes, which opened at Théâtre du Nouveau Monde in 1972 and was revived at the same theatre in 1998. Claude Gauvreau died tragically in 1971.
The important body of work left by this "poet of cruelty and freedom" is testimony to Gauvreau's total commitment to his art, his struggle and his vision of life.

Source: www.cead.qc.ca

Tickets and Special Offers
Price: Adults $20, Seniors $15, Students $10
Tickets:
La Nouvelle Scène Box Office
613.241.2727, ext. 1
Students tickets are half price for this event