Comedy
Juste pour rire ~ Québec mon humour

Established in 1983, Juste pour rire/Just for Laughs has grown from an annual festival to a full-time organization that recruits, trains and presents some of the funniest names in Quebec comedy. Hosted by the brilliant and acerbic Laurent Paquin, Québec mon humour features a riot of emerging and established stars, including Stéphane Rousseau, just back from filming Astérix in France; the hilarious Rachid Badouri, proclaimed "Discovery of the Year" at the 2005 Olivier Gala; agent provocateur Guy Nantel; the effervescent Julie Caron; Alexandre Barrette, host of Montreal's Mercredis Juste pour rire weekly comedy nights; Billy Tellier, voted "Discovery of the Year" at the 2004 Just for Laughs festival; and Charlypop, the sound effects sensation nominated for 2006 "Just for Laughs Rising Star."
A gleeful gathering that demonstrates once again that in Quebec, laughter is serious business! Presented in French.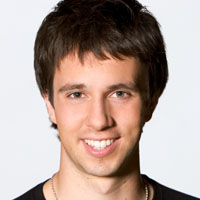 Alexandre Barrette
A graduate of the École nationale de l'humour (2002), Alexandre Barrette is a young comic whose star is definitely on the rise.
He's a former reporter for the Radio-Canada children's TV series Têtes à Kat (2003), member of the Just for Laughs Comedy Tour (2004, receiving three nominations at the Les Oliviers Gala), and host of Montreal's weekly Mercredis Juste pour rire comedy nights (2004–06).
Since 2003 he's been an audience favourite at the renowned Just for Laughs Festival Gala at the Théâtre Saint-Denis. At the 2006 Festival he really made waves: besides hosting two Comedia film nights, he co-wrote and starred in Les Colocs de l'Humour, created specially for the festival's Tout Show series. At the Martin Petit Gala, Alexandre's sketch Lettre à Ouandi earned him a nomination for the Just for Laughs "Rising Star" award and was included in Les meilleurs moments Juste pour rire, a "best of" compilation aired on the TVA network.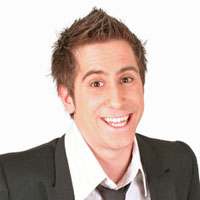 Billy Tellier
Billy Tellier graduated from the École nationale de l'humour in 2002 and hasn't rested since! Gifted with rare charisma and an impeccable sense of comic timing, this multitalented writer, host, reporter and comedian has conquered audiences at major festivals and corporate events alike.
Billy won the 2004 Just for Laughs Festival "Rising Star" prize awarded by the Fondation du maire de Montréal pour la jeunesse (Montreal Mayor's Youth Foundation), and was nominated for the "Discovery of the Year" award at the 2005 and 2006 Les Oliviers Gala.
2006 marked his third consecutive year at Just for Laughs Festival, with appearances at the Laurent Paquin gala and in Les Colocs de l'humour alongside his longtime colleague (and former roommate) Alexandre Barrette. Billy Tellier's current projects include television work and a one-man show.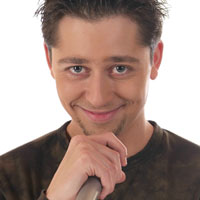 Charlypop
Sound-effects sensation and master beatboxer Charlypop stands out in the comedy world for his unique and amazing talents. You won't believe the sounds and rhythms he can produce using just his mouth as an instrument! A born performer, he'll have you howling at his wacky combination of stand-up comedy and "simultaneous song interpretation" (both lyrics and music). Charlypop was the hit of the 2006 comedy festival circuit, including Just for Laughs (where he was shortlisted for the "Rising Star" and "Discovery of the Year" awards) and Le Grand rire. He conquered Quebec's Anglophone audiences with his performance in Just for Laughs' celebrated Montreal Show, and was the first Francophone artist on the Lipton Just for Laughs Comedy Tour, Canada's biggest annual traveling comedy show. Between October 21 and November 25, 2006 the show racked up 35 performances in 24 Canadian cities, in halls of 1,000 to 2,500 seats.
Source: Comédie Shop Management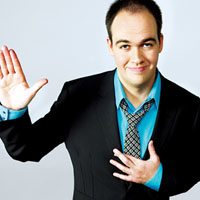 Guy Nantel
Guy Nantel loves to challenge his audiences with a wry combination of comedy and social commentary. His investigation of the puzzling contradictions of human existence has his fans shifting uncomfortably in their seats… and begging for more! Despite his easygoing style, he's a keen observer who's not afraid to tackle touchy subjects—consumerism, education, American supremacy, the craze for political correctness, specialty channels, advertising, reasonable accommodations, and the decline in health care services. You'll laugh, you'll get mad, you might even get a little tearful.
Winner of the "Discovery of the Year" award at the 1997 Just for Laughs Festival, Guy Nantel is an original, authentic, provocative and fearless artist. Since he made his debut back in 1986, he's carved out a solid reputation as one of Quebec's best-loved humorists.
"An incredible talent with a socio-political edge… it's the return of non-gratuitous humour… and it's invigorating. Very, very, very effective." – Maryse Roberge, Radio 98.5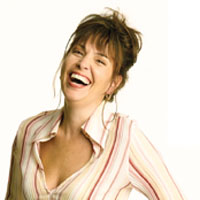 Julie Caron
One of the hottest young talents on the comedy scene, Julie Caron made a remarkable debut in spring 2005 with the media launch of her show Une vraie fille...C'est moi ça?, which swept through the comedy world like a blast of fresh air.
An authentic and spontaneous performer, loved by audiences and critics alike, a particular favourite of renowned Quebec funnyman Patrick Huard, Julie Caron was nominated in the "Best Comedy Show" category at the 2005 ADISQ Gala and in four categories at the 2006 Les Oliviers Gala (Comedy Show of the Year, Comedy Act of the Year, Writer of the Year and Best Direction).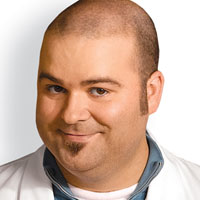 Laurent Paquin
A 1995 graduate of the École nationale de l'humour, Laurent Paquin has been crazy busy ever since! Besides participating in the last 10 Just for Laughs festivals and taking his comedy act on tour to just about every venue in Quebec, he has demonstrated his talents as a singer (Chicago), actor (Histoire des filles, Bertrand Castor), host (La poudre d'escampette), morning man (C't'encore drôle), and reporter (Journal Métro).
Laurent is acclaimed by audiences and critics alike. His first one-man show, Première Impression, was an instant hit and his second, Tout est relatif, is irrefutable proof of his comic genius and charisma.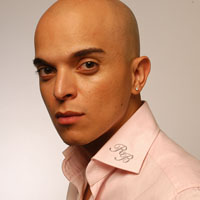 Rachid Badouri
The son of Moroccan Berber parents, Rachid Badouri grew up in Laval. He got his start in comedy (and acquired valuable stage experience) as a member of the Montmorency Cégep improvisation team. It wasn't until 1999, when he decided to audition for a comedy show organized by Just for Laughs, that he put together his first original skit, a piece about immigration that showcased his superb talent for mimicking ethnic accents.
Now definitely bitten by the stage bug, Rachid participated in numerous arts events, including the 2000 Les Oliviers Gala, where he performed a special number with Michel Mpambara and Paul Buissonneau. That gig caught the eye of some of the leaders of the comedy industry, including François Léveillé, who invited him to perform at two editions of the Festival du Grand Rire in Quebec City.
In February 2005 Rachid produced a DVD of his original material and distributed it to various radio and TV stations and production houses. Impressed by the DVD, the Just for Laughs Festival organizers asked him to audition for the 2005 summer gala. He aced the audition and was selected as one of the featured performers at the Just for Laughs Gala.
Winner of the "Discovery of the Year" award at the 2005 Just for Laughs Festival and the 2006 Les Oliviers Gala, Rachid has had the privilege of working with renowned French comic Pascal Légitimus on the TV show Le Grand Plateau hosted by Stéphane Bureau. He also starred in a Loto Québec Québec 49 ad campaign, and opened for Gad Elmaleh's Montreal show. Rachid is currently working on his first one-man show which he hopes to have ready in the fall of 2007.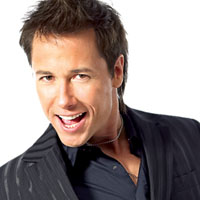 Stéphane Rousseau
Stéphane Rousseau made his first appearance at the Just for Laughs Festival in 1991. His first one-man show won the Félix for Best Comedy Show at the 1993 ADISQ Gala. In 1995 he put together a second solo show, and the video won a 1997 Vidéo d'or.
His third, equally successful show won the Stage Show of the Year and Most Popular Show at the 2001 Les Oliviers Gala. He also appeared on film in Les dangereux (2002) and Les invasions barbares/The Barbarian Invasions (2003), which latter role earned him a Genie for Best Supporting Actor.

Tickets and Special Offers
Price: $29.00, $39.00, $49.00
Tickets:
NAC Box Office
Ticketmaster: 613.755.1111
Online: www.quebecscene.ca