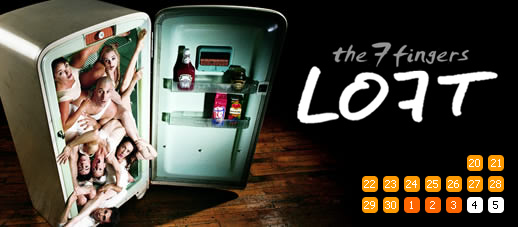 The 7 fingers ~ LOFT
May 4 & 5 at 8:00 PM
In the multi-media contemporary circus show 7 Fingers, imagination is the jet-fueled vehicle of travel, and the strange lands visited are the desires/dreams/impulses/follies of the characters themselves, as they strip down layer by layer to their own idiosyncratic cores.
The action unfolds in a loft, as seven close friends employ every object at their disposal - apples, shoes, bathtubs, flashlights, knives, lampshades, Barbie dolls-to entertain themselves in the monotony of their daily lives. One woman finds herself contorted around a tablecloth, pulled up towards the ceiling, eating an apple in playful reminiscence of that serpentine original sin; another man crashes kamikaze-like against the stairs, as his companions go about their daily business; one writes diligently at his desk and longs for his solitude, while another finds the intimacy she yearned for within the unlikely comfort of metal chains.
Soaring, somersaulting, contorting, balancing, catapulting-there are no boundaries to their modes of expression-and in this ordinary setting the extraordinary never fails to surprise. Montreal's DJ Pocket orchestrates the various mood changes, "mixing" the eclectic score, from swing to rap to techno to tango, and occasionally performing live vocals alongside other members of the cast.
With this mix of state-of-the-art circus skills, intimate theatre, dynamic avant-garde dance, cutting-edge musical performances, and live video projections, 7 Fingers is a show that the San Francisco Bay Guardian called "an arresting visual and aural landscape that both meets and subverts our expectations of modern circus" and what the SF Weekly called "fusion cuisine for the eyes and ears".
Tickets and Special Offers
Price: Adults $37.75 / Youth (17 and under) $22.75 (plus Capital Renewal Fund fee)
Tickets:
Centrepointe Theatre Box Office
613.580.2700
Online: www.centrepointetheatre.com
Sleight of hand, The company
Faon, Gypsy, Isa, Pat, Sam, Seb, and Shana - Seven circus artists, simultaneously actors, dancers, singers, musicians, directors, writers and choreographers. After years of performing in the world's finest and most renowned circuses and cabarets, they decided to pool their multiple talents and experiences to form a company true to their ideals of communal creation, a show true to their vision of circus at a human scale.
French for "the seven fingers of the hand", a twist on a French idiom about working together with agility and coordination, the phrase indicates both unity and individuality.