Dance
Dave St-Pierre ~ A little tenderness for crying out loud!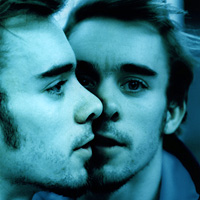 Dave St-Pierre
Coproduced by Quebec Scene
It's been a meteoric rise for this young Montrealer who, in just three years, has become one of the hottest stars in contemporary dance. From Munich to Amsterdam by way of Salzburg and Las Vegas, his bold creative vision has attracted unanimous critical praise. A little tenderness for crying out loud! is the second part of a planned triptych about contemporary utopias – a reconstruction of self-esteem, a search for another way of loving. Dave St-Pierre experiments with tension and release, both spontaneous and imposed. The body too tightly constrained must eventually expel a burst of energy; the movement is repeated to the point of exhaustion. Robot-like bodies and crumpled forms twitch with raw, instinctive impulses, leaps and spasms, primal expressions of immediate emotion. Despite its harsh premise, the work is deeply compassionate; its tangible, physical sweetness ultimately conveys a sense of peace and enjoyment.
Note: Nudity.
Tickets and Special Offers
Price: Adults from $18.83, Students from $10.75
Tickets:
NAC Box Office
Ticketmaster: 613.755.1111
Online: www.quebecscene.ca
Students tickets are half price for this event
Quebec Scene Discovery Package
Buy any three shows from this list and your fourth one is free.*
* The free selection must be of equal or lesser value than the lowest priced show.
Get 4 shows for as little as $30!