Music
Boogat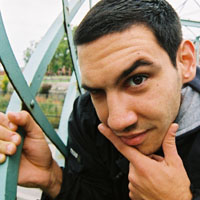 Boogat
Daniel Russo Garrido (a.k.a. Boogat), a Quebec City artist turned neo-Montrealer, has been part of the Quebec hip hop scene for over a decade. He has worked with artists unknown, known and well known, and released two commercial albums, Tristes & Belles Histoires (winner of three awards at the Montreal Underground/MU Gala: Francophone Album of the Year, Francophone Lyrics of the Year, and Francophone Artist of the Year) and Patte de salamandre (released on May 30, 2006, featuring the hit single "Le feu").
His sound is an intrinsically eclectic fusion of multiple genres. From traditional Latin American melodies to Afro-American soul by way of electro and Quebec music, it's a contemporary rap expression of Montreal's rich cultural mosaic.
Boogat is currently working on five albums: Retour à l'époque classique, scheduled for release in late 2007; Panamericano, an all-Spanish mix; The Boogatovitch Project, an electropical album; Remix Integro, an album/DVD of remixes and previously unreleased material; and J'pensait par là, a collective collaboration with Movèzerbe (Les 2 Tom, Karim Ouellet, KenLo le Narrateur and Accrophone), scheduled for release this summer. No down time on Boogat's calendar!!
(Source : www.boogat.com)

Tickets and Special Offers
Price: $10
Tickets:
NAC Box Office
Ticketmaster: 613.755.1111
Online: www.quebecscene.ca

At the door (1 hour before showtime)
Quebec Scene Discovery Package
Buy any three shows from this list and your fourth one is free.*
* The free selection must be of equal or lesser value than the lowest priced show.
Get 4 shows for as little as $30!