Theatre
Norman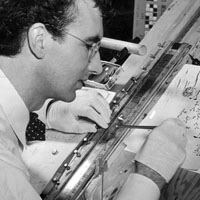 Michel Lemieux and Victor Pilon ~ Norman
Written by Michel Lemieux and Victor Pilon
With Peter Trosztmer
Produced by 4D art in collaboration with the National Film Board
of Canada and in coproduction with Place des Arts de Montréal, the Quebec Scene, Luminato Toronto Festival of Arts
and Creativity, and Espace Jean Legendre – Scène conventionnée, Compiègne (France)
World premiere
Animator Norman McLaren, creator of such classics as Pas de deux and Once Upon a Chair, left an indelible mark on the history of film. He founded the National Film Board animation studio in 1941 and turned it into a unique creative crucible that inspired generations of filmmakers. Through the innovative projection technologies developed by 4D art, audiences can now penetrate McLaren's world in a whole new way. This one-man show, featuring talented performer/choreographer Peter Trosztmer in a world premiere production, pays tribute to the great filmmaker's extraordinary genius, vision and humanity through an interactive mix of interviews, sound sequences and video clips. Don't miss this live fusion of theatre and film!
Bilingual presentation.

Tickets and Special Offers
Price: Adults $25, Students $13.75
Tickets:
NAC Box Office
Ticketmaster: 613.755.1111
Online: www.quebecscene.ca
Quebec Scene Discovery Package
Buy any three shows from this list and your fourth one is free.*
* The free selection must be of equal or lesser value than the lowest priced show.
Get 4 shows for as little as $30!