Dance
Les Grands Ballets Canadiens de Montréal ~ TooT, Noces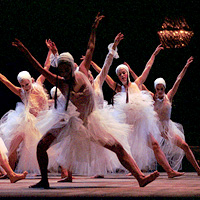 Les Grands Ballets Canadiens de Montréal
Presented by National Arts Centre Dance
Two dramatic new works created especially for the 50th anniversary
of Quebec's leading ballet company. In TooT, Dutch choreographer
Didy Veldman (music by Shostakovich) groups eight men and seven women in a series of beguiling vignettes that examine the role of the
individual in society. Noces, by Belgium's Stijn Celis (set to Stravinsky's riveting score), features 24 dancers who strut, pose, and brutally challenge each other at a Balkan peasant wedding; the dancing is expressionistic and deliriously intense.
Tickets and Special Offers
Price: Adults from $32.50; Students from $17.50
Tickets:
NAC Box Office
Ticketmaster: 613.755.1111
Online: www.quebecscene.ca
Students tickets are half price for this event
Groups of 20+ receive great discounts! For more information contact grp@nac-cna.ca