Storytelling and Literature
Roslyn Schwartz: The Mole Sisters, Reading and Screening
Roslyn Schwartz, author and illustrator of the popular Mole Sisters series of children's books, will give a reading of their adventures, accompanied by some surprise guests. The reading will be followed by a short screening of The Mole Sisters. This event is sure to please both kids and parents, who love the positive attitude of the Mole Sisters.
Presented in English.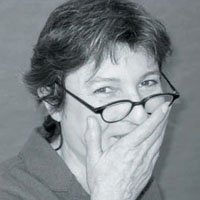 Roslyn Schwartz
Roslyn has written and illustrated a series of books for the very young following the adventures of the Mole Sisters. These stories found their inspiration from various elements throughout Roslyn's life. The first time she ever saw a mole was on the way back from school. It was lying on its side, perfectly shaped and beautiful, but unfortunately quite dead.
Riveted by the tiny creature, she carried it home in her sandwich bag. Over the years, Roslyn has always kept a pet rodent or two, in the form of guinea pigs and a rabbit.
The Mole Sisters series has become a favourite of children and parents. The Mole Sisters' positive approach to life and unrelenting optimism appeals to all ages. The series now includes ten titles-including two new adventures, The Mole Sisters and the Fairy Ring and The Mole Sisters and the Way Home (September 2003)-as well as the Mole Sister finger puppets, which have brought their charm off the pages and to fingers everywhere. And watch for the new Mole Sisters television series on Treehouse TV!

Tickets and Special Offers
Price: $12
Tickets:
NAC Box Office
Ticketmaster: 613.755.1111
Online: www.quebecscene.ca
Quebec Scene Discovery Package
Buy any three shows from this list and your fourth one is free.*
* The free selection must be of equal or lesser value than the lowest priced show.
Get 4 shows for as little as $30!