Music
Richard Séguin

Copresented by Quebec Scene and Maison de la culture de Gatineau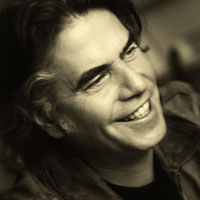 Richard Séguin
Singer/songwriter Richard Séguin knows how to use silence as effectively as lyrics and music, and in a solo career spanning nearly 30 years he's become an expert at balancing those three elements—both in his career, where his busy performance and touring schedule is interspersed with quieter periods of "recharging the batteries," and in his songs, each a tiny "microclimate" (also the title of his 2000 solo album) amid a whirl of competing and conflicting demands. He draws on his rich and varied musical background to craft a repertoire that's uniquely his own and reflects his personal view of the world. And now, all aboard for a trip back in time…
In 1972, having launched his career as a member of Les Nochers and La Nouvelle Frontière, Richard Séguin collaborated with journalist Benoît L'Herbier on a children's short story, "Blancheville." He then formed a duo with his twin sister Marie-Claire, and over the next four years Les Séguin achieved impressive success.
His next major venture was a collaboration with Serge Fiori, lead singer of the group Harmonium, on the double album Deux cents nuits a l'heure, released in 1978 on the CBS label. The most ambitious project in the history of the Quebec recording industry, it turned out to be an excellent investment on CBS's part: the album sold over 200,000 copies and won three Félix awards at the inaugural ADISQ gala in the fall of 1979.
Soon afterwards Séguin released his self-titled debut solo album, featuring such spare and evocative numbers as the hit "Le blues du nouveau-né." He went on to compose numerous classics of the new wave of Quebec chanson - yet he never let success cloud his creative vision or integrity.
Now with over a dozen albums to his credit, most recently Lettres ouvertes (2006), Richard Séguin is acknowledged as one of Quebec's leading singer/songwriters.
Source: Québec Info Musique, www.qim.com/artistes/biographie.asp?artistid=133 (transl.)
Tickets and Special Offers
Price: $35
Tickets:
Odyssée Hall Box Office
819.243.2525