Culinary Arts
Daniel Vézina ~ A Taste of La belle province
Daniel Vézina
Amuse bouche
Princess scallops from Madeleine Islands ;
Sugar shack style foie gras ;
Maple lacquered smoked salmon and cucumber pickle
Warm appetizer
Lightly seared tuna with wild ginger, sea urchin sauce ;
Cucumber jujube and daylily bud ;
Beausoleil cocktail oyster with New-Brunswick caviar
Main course
Rack of piglet from the Gaspor Farm, chicoutai berries sauce,
Caramelized cipolini onions, grilled king eryngii,
Micro white asparagus from Orleans Island,
Fire morels with Jerusalem froth perfumed with truffles
Cheese
Riopelle cheese from l'Île-aux-Grues
Melted in an egg shell with a garlic flower sabayon,
Brioche and micro-chives
Pre-dessert
Maple sugar egg with citrus juice
Dessert
Experiment around the « Hypnotic Poison » perfume from Dior
Digestif
Maple-cream liqueur shooter with maple cotton candy
Selected Wine Pairings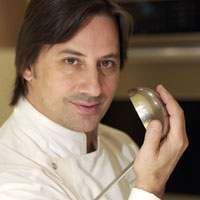 Daniel Vézina
Master chef Daniel Vézina invites you to a gourmet celebration of the finest in Quebec gastronomy. Join him for this elegant and exquisite "kitchen party".
Daniel Vézina has garnered international attention and praise ever since he opened his Quebec City restaurant, the Laurie Raphaël, in 1991. His mission: To create menus that are contemporary, creative and diverse. The success of his restaurant, a showcase for "made in Quebec" products and recipes, is the result of a team effort by this great chef and his wife and partner, Suzanne Gagnon, as well as host of suppliers and partners, from farmers and breeders to artists and designers. Memorable cuisine that's as delightful to the palate as it is to the eye, served on beautiful dinnerware from the laurie raphaël collection.
Daniel Vézina has hosted two TV food shows and writes a monthly food column for La Presse, in which he shares his passion for food and travel (geographical and culinary!). With three cookbooks to his credit and a workshop that's open to the public, he has become a household name in kitchens across Quebec.
Tickets and Special Offers
Price: $100.00
Tickets:
NAC Box Office
Ticketmaster: 613.755.1111
Online: www.quebecscene.ca