Storytelling and Literature
The Art of Comics from Every Angle
After a brief history of comics and graphic novels in Quebec, a discussion with several Quebec authors will provide an overview of how they approach their art and the current situation of Quebec's graphic novel industry. Hosted by author Paul Roux, this meeting will showcase prolific and talented veterans Raymond Parent and Réal Godbout, as well as rising stars Maryse Dubuc and Marc Delafontaine. The event concludes with a live drawing session. Presented in French.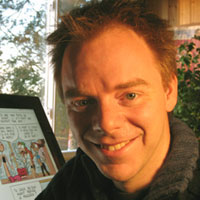 Marc Delafontaine
Marc Delafontaine studied fine arts before launching his freelance career. He has worked as an illustrator for several educational publishers, and has extensive experience in animation, from clean-up to layout-posing to storyboard. He has illustrated several children's books and published short graphic stories in several Quebec magazines and anthologies. He is currently illustrating the series Les Nombrils for Dupuis, working in close collaboration with Maryse Dubuc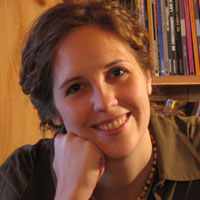 Maryse Dubuc
Maryse Dubuc studied French literature before obtaining her B.A. in communications from UQAM. She published several novels and children's books (Éditions Vents d'Ouest, Éditions Pierre Tisseyre, Bayard) before tackling the graphic adaptation of the series Les Nombrils, which was prepublished in several magazines in France, Quebec and Belgium (including Spirou) and included in the collection Tous Publics published by Éditions Dupuis.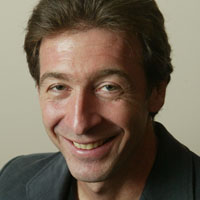 Paul Roux
Writer and illustrator Paul Roux was born in 1959 in Marseille, France, where he studied at the École d'art et d'architecture. After moving to Ottawa-Gatineau he obtained his B.A. in fine arts from the Université du Québec à Hull. He has published several books through publishing houses in Quebec, Ontario and France, and since 1990 has enjoyed wide popularity in Quebec and across Canada as a comic artist. His numerous awards and honours include several grants from the Canada Council for the Arts. Currently, this energetic creator is a regular contributor of cartoons to Le Droit, Ottawa's French-language daily; a faculty member at the Université du Québec en Outaouais; and the coordinator of the Rendez-vous international de la BD de Gatineau and the graphic novel section of the Salon du livre de l'Outaouais. In his spare time he's a caricaturist, radio reporter and lecturer. Paul has also worked as an illustrator and designer for Radio-Canada television, and taught at the National Gallery of Canada for over 10 years.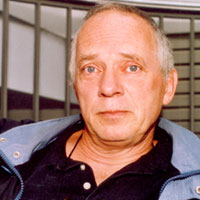 Réal Godbout
Montreal native Réal Godbout was at the forefront of the rebirth of the graphic novel in Quebec in the 1970s. He's widely known as the illustrator and co-creator (with Pierre Fournier) of the cult series Michel Risque and Red Ketchup, originally published in the satirical magazine Croc (1979–95) and recently collected and re-released by Éditions de la Pastèque. Réal also works as an illustrator, and created a series of educational comic strips for Les Débrouillards magazine. Since 1999 he has taught comic art in the fine arts program at the Université du Québec en Outaouais.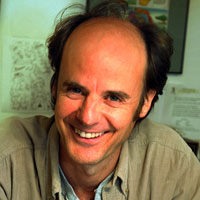 Raymond Parent
Raymond Parent's career as a writer and illustrator spans over 20 years. His illustrations and comic strips have appeared in numerous Quebec newspapers and magazines, and he has worked as an illustrator on animated films for Spirou and Fantasion. As a graphic artist he has designed numerous marketing campaigns, notably for KLM and Gaz Métropolitain; as an author he has written several stage plays as well as comedy scripts for Just for Laughs tours. His talents as a writer and illustrator are fully expressed in Les Klootz, the animated 3D humour series he created for Vrak TV. Immensely popular with teenagers, the series also airs nationally on the Family Channel. His album Bibop et que ça saute won the "Livromagie de Communication-Jeunesse" award and the prize for Album of the Year at the 10th Festival international de bandes dessinées de Québec. Raymond is also the author of Bibop ça passe et ça casse and Culbute, both published by Mille-Îles. He's been teaching creative workshops in comic art for about 10 years.
Tickets and Special Offers
Price: $15
Tickets:
NAC Box Office
Ticketmaster: 613.755.1111
Online: www.quebecscene.ca
Quebec Scene Discovery Package
Buy any three shows from this list and your fourth one is free.*
* The free selection must be of equal or lesser value than the lowest priced show.
Get 4 shows for as little as $30!