Visual and Media Arts
Gallery 101 ~ The Hearing Eye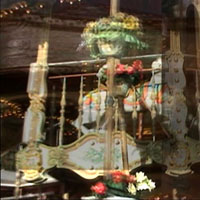 The Hearing Eye
ARTISTS: Alfonso Arzápalo (Photography), Gwenaël Bélanger (Photography), Patrice Duhamel (Drawing), Nelson Henricks (Video), Caroline Lathan-Stiefel (Sculpture/Installation), Nelly-Ève Rajotte (Video), uniform (Patrick Pellerin et Éric Dubois) (Graphic Design)
MUSICIANS: Diane Labrosse (Musique Actuelle), Jérôme Minière (Singer/Electronic music), Montag (Pop/Electronic music), Van Stiefel (Musique Actuelle/Contemporary), Galerie Stratique (Musique Actuelle/Electronic music), Jackie Gallant (Electronic/Experimental), aRTIST oF tHE yEAR (Funk/Electronic).
Curator: Sébastien Cliche
A multimedia group exhibition of seven visual and seven musical works created specifically for this event by visual artists and musicians interested in the nuances and strengths of interdisciplinary work. The visual and video installations are complemented by the recorded musical "soundtrack"
(on head/earphones). A mini-CD will be produced in association with Montreal's Clark Gallery and Gallery 101.


Tickets and Special Offers