Storytelling and Literature
Michel Faubert and Mike Burns
These two mesmerizing wordsmiths draw on the universal appeal of traditional tales and underline their contemporary resonance. Treasuring the oral tradition as something sacred, precious, and profoundly human, they revive ancient stories that have been forgotten or distorted over time and burnish them to new lustre.
Presented in French.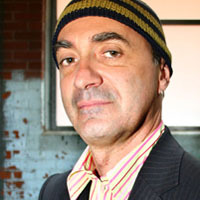 Michel Faubert
Master storyteller Michel Faubert blends the traditional and the modern into a seamless and captivating whole. For close to two decades he has been burrowing between the lines and between the words, honing in on essential human experience in tales of compelling gravity. He's also an accomplished singer, and the plaintive ballads and evocative laments he weaves into his stories are an integral part of his repertoire.
He discovered storytelling as a naturally curious adolescent who, unlike his peers, liked to hang out with… "old folks!" In song and story, he frequently draws his listeners into the rich world of one of those old folks: his mentor, Ernest Fradette, a storyteller from Saint-Raphaël-de-Bellechasse who left him his repertoire and his art.
Way back in 1993 Michel caused a sensation at the Grenoble (France) storytelling festival, one of the oldest in Europe. His experience there marked the beginning of a long period of reflection during which he fine-tuned his narrative and musical talents.
Since then he has been invited to dozens of festivals in France, Belgium, and Switzerland. In 1998, he won the Gold Medal in the storyteller category at the Jeux de la Francophonie in Madagascar with Le Passeur, a show presented over 300 times in Quebec, Canada, Europe and Africa and immortalized in a live recording.
Michel Faubert's curiosity hasn't waned over the years: he's still exploring, searching, and digging up rich nuggets of our oral heritage which he passes on to his spellbound audiences.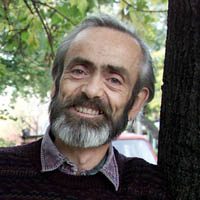 Mike Burns
Mike Burns is a rare presence in an age of fleeting sound bites, short attention spans and mass media: a true keeper of the oral tradition. His hundreds of stories are based on the tales and legends of his native Ireland, handed down by his father and grandmother.
He made his public debut at a family gathering when he was nine, relating a funny story with a macabre twist. For over 40 years now he's been telling and retelling the ancient traditions of his homeland, sprung from a pure oral fount of tales that intersect and connect into a kind of saga.
Fluent in Gaelic, English and French, Mike is a favourite at storytelling festivals across Canada and Europe. In 2003 he published a book with audio accompaniment in French, Raconte-moi que tu as vu l'Irlande ("Tell me you've seen Ireland"), published by Éditions Planète rebelle, that represents only a tiny part of his vast repertoire.
Mike Burns doesn't yet know if his own son will follow in his storytelling footsteps, but in the meantime (and for the past 10 years) he willingly shares the tradition at the popular storytelling sessions held the last Sunday of every month at Hurley's Irish Pub on Crescent Street in downtown Montreal.

Tickets and Special Offers
Price: $15
Tickets:
819.243.8000
Online: www.ovation.qc.ca
Quebec Scene Discovery Package
Buy any three shows from this list and your fourth one is free.*
* The free selection must be of equal or lesser value than the lowest priced show.
Get 4 shows for as little as $30!