Music
Jorane
The Parisian press has compared her to Tori Amos, Sinead O'Connor and Loreena McKennitt, but Jorane defies classification. Often singing in a language of her own invention, somewhere between onomatopoeia and automatism, a language that breaks all the boundaries, this virtuoso cellist has been acclaimed across Canada and internationally, from Europe to Japan. A musical approach that draws on classical and neo-Celtic traditions. Serene, intriguing and bewitching.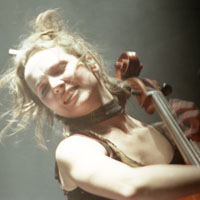 Jorane
"Jorane impresses with her dark-toned bowing and ethereal vocals. With a collection of mysterious originals, Jorane tells pensive personal stories in settings that range from the dreamy to the shape-shifting… reminiscent of early Jane Siberry." – Billboard
Elusive and indefinable, Jorane's music draws freely on alternative rock, folk, classical, and ambient music idioms, eliciting comparisons along the way with such distinctive artists as Kate Bush, Bjork, Tori Amos, Sinead O'Connor and Loreena McKennitt. Her haunting voice and soulful cello playing captivate her audience by weaving a sonic dreamscape; the combination of earthy, supple cello and ethereal female soprano is inspired and effective.
Jorane first picked up the cello while still at school, having previously learned piano and guitar. At the 1996 Cégeps en spectacle music competition she immediately attracted attention for the unique way she blended her own voice with that of her instrument. She took top awards in various local competitions and was soon distinguishing herself at the regional and national level. Today, this phenomenal young singer/cellist is acclaimed across North America and in Europe and Japan.
Her many awards and honours include an award from the Office Franco-Québécois pour la jeunesse (OFQJ) to fund a series of concerts in Saint-Malo, France; voted "Presenters' Choice" at the 1998 ROSEQ (East Quebec presenters' association); and grants from the Conseil des Arts et Lettres du Québec and the Canada Council for the Arts.
She has released four albums: Vent fou (1999), 16 mm (2000), Jorane Live (2002, recorded at the Montreal International Jazz Festival), and The You and the Now (2005, her first album featuring English lyrics).
Tickets and Special Offers
Price: $20
Tickets:
NAC Box Office
Ticketmaster: 613.755.1111
Online: www.quebecscene.ca

At the door (1 hour before showtime)
Quebec Scene Discovery Package
Buy any three shows from this list and your fourth one is free.*
* The free selection must be of equal or lesser value than the lowest priced show.
Get 4 shows for as little as $30!