Music
Alexis O'Hara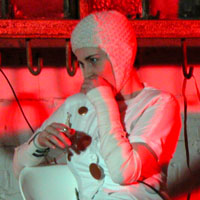 Alexis O'Hara
Alexis O'Hara is a trilingual performance artist with a penchant for experimentation: producing street theatre in Toronto, making dirty movies in Vancouver, frying her ass for the art-hungry hordes in Geneva, and singing in an myriad of musical projects from jazz combos, to all-girl punk outfits and improv electronic jam collectives.
Since moving to Montreal in 1997, she keeps one foot in the exploding spoken word scene and the other in the improv- pop-noise-whatever scene. After a spell in the weird world of competitive poetry where she tongue-whipped her way to the top ten at the 1999 National Poetry Slam, she was ready to perform with props, costumes and musical accompaniment. Spurred on by radio producer Genevieve Heistek and dj Patti Schmidt, O'Hara buys a sampler and raids the electronic section of Toys 'R Us. Her first plugged-in show at Canzine in Toronto is broadcast in its entirety on CBC's Brave New Waves. For the next three years, she performs an average of twice a month, opening for acts like Hawksley Workman, Johnny Dowd and Joseph Arthur, and honing her performance skills but maintaining an anti-virtuoso=charming approach that cements her reputation as a dynamic live act and all around freak show.
WHERE ARE WE NOW? She finds herself in the studio after winning a Canada Council grant that culminates in In Abulia, a debut album that barely hints at the complexity and curiosity that is Alexis O'Hara.
Tickets and Special Offers
Price: $10
Tickets:
NAC Box Office
Ticketmaster: 613.755.1111
Online: www.quebecscene.ca
At the door (1 hour before showtime)
Quebec Scene Discovery Package
Buy any three shows from this list and your fourth one is free.*
* The free selection must be of equal or lesser value than the lowest priced show.
Get 4 shows for as little as $30!