Music
Les Batinses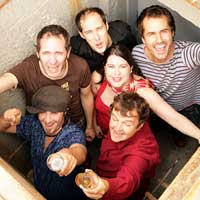 Les Batinses
Multi-instrumentalists and dedicated iconoclasts, Les Batinses update familiar folk tunes and lyrics from their native Quebec with Latin, Bulgarian and Breton influences and echoes of funk and rock. Inspired and explosive, their music stretches the boundaries of their craft, playfully mixing past and present, traditional lyrics and modern arrangements... all for the sake of having a great time!
Tickets and Special Offers
Price: $18
Tickets:
NAC Box Office
Ticketmaster: 613.755.1111
Online: www.quebecscene.ca
Canadian Museum of Civilization Box Office
Quebec Scene Discovery Package
Buy any three shows from this list and your fourth one is free.*
* The free selection must be of equal or lesser value than the lowest priced show.
Get 4 shows for as little as $30!