Music
Plaster, Ghislain Poirier, Stephen Beaupré, Lesbians on Ecstasy

Fans of electro, take your seats! Four groups that stir up the airwaves come together for an unforgettable performance. Plaster will unleash
its arsenal of keyboards, bass and drums connected to laptop computers; Ghislain Poirier, master of the heavy, dirty beat, returns with his
deconstructed hip hop; Stephen Beaupré creates an atmosphere of easy humour set to house and techno rhythms; while Lesbians on Ecstasy offer up a rebel dance beat. Electro at its best. The evening will be hosted by Claude Rajotte and broadcast live on Espace musique and later on Bande à part.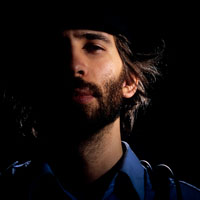 Ghislain Poirier
Montreal's Ghislain Poirier is obsessed with big, dirty beats, an affliction that compels him to create some of the most out-of-control raga-style riddims and deconstructed abstract hip-hop to date. Poirier has collaborated with MC's and DJ's from across the globe, including Beans (Warp), Rupture (Tigerbeat6), TTC (Big Dada) and Lotek Hi-Fi (Big Dada). He has remixed tracks for UK grime/hip hop sensation Lady Sovereign (Def Jam), Les Georges Leningrad, Pulseprogramming and The Editors.
In 2005 Poirier released the album Breakupdown on the Chocolate Industries label. The record was well received by the public and press alike, and he was offered the opportunity to perform during a North American tour with Lady Sovereign herself.
Since then, Poirier has been throwing down his own successful monthly DJ night in Montreal, "Bounce le Gros." Spinning music that flows effortlessly from global hip hop, grime, Bali beats, Booty bass, crunk, Baltimore and much more is this DJ's signature stamp, a sold-out party month after month.
Poirier decided to release his next body of work on his own imprint, and in 2006 started the Rebondir Records label on which he released his Rebondir e.p. featuring the hit "Pour te réchauffer" with TTC and Omnikrom.
In the past year, this busy Montrealer has appeared live at the Francofolies de Montréal, the Festival d'Été de Québec, the Eurockéennes de Belfort (France), the Festival des Vieilles Charrues (France), the Festival de Dour (Belgium), MEG (Montréal), and the Pitchfork Music Festival (Chicago), and even made it as far as Australia! Somewhere in his hectic travel schedule he finds time to work on his next album, scheduled for release in the fall of 2007. Keep your ears open, your feet in check and be prepared to Bounce!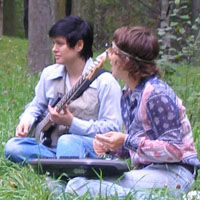 Lesbians on Ecstacy
The Lezzies On X are a plunder music project, taking inspiration from the lesbian back catalogue by referencing folk artists and punk bands alike, re-writing lesbian history for the dance floor. They use the source material in a musical collage that crosses a wide spectrum of musical styles, all within the dance genre. One of their obsessions has been to develop their own way of playing dance music live, using an electronic drum kit, bass guitar and an array of synths. The insistence on such a strong technological presence in their music serves to highlight the absence of technology in the majority of lesbian music, which privileges acoustic sound as authentic lesbian expression.
Lately, L.O.E. are keeping the same concept, but diving deeper into the lesbian vaults. The new recordings are focused on womyn's music from the 70s, in both content and style. They are using this as an opportunity to explore the idealism and optimism present in early feminist theory and music and examine the ways in which these themes have disintegrated today.
The Lesbians on Ecstasy are making electronic music of the lesbian variety. It's kd lang, but it's different somehow... Lesbo folk songs, rebel songs and beats for the modern lesbian. Straights and dudes love it too.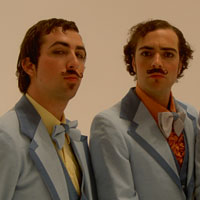 Plaster
Plaster (Jean-Philippe Goncalves, Alex McMahon and François Plante) was described in a fall 2005 article about newcomers on the music scene as an electro-jazz band. In fact, their sound is more of a fusion of instrumental (keyboards, bass and drums), sampling, and electronic elements.
Alex and Jean-Phi, Cégep students at the time, formed the band in 2001 and were soon joined by François. While building an original repertoire they collaborated on various projects, including the compilation album Jaune 2005 (with Jean-Phi as the latest "Artists' Café Cat") and the collective Afrodizz. After three years of preparation, impatient to broaden their horizons beyond their usual circle, they inaugurated the brand new Parallell label (a spinoff of La Tribu and Avalanche). Their debut album, First Aid Kit, was launched on November 10, 2005 at La Tulipe on Papineau Street, Montreal.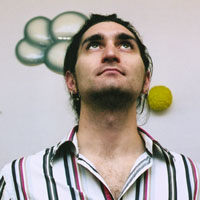 Stephen Beaupré
Stephen Beaupré has been active on the Montreal scene for more than ten years. Having cut his teeth in his youth as an events organizer in Ottawa, he now has several discs to his credit, whether under his own name or as a member of Crackhaus with his friend Deadbeat.
Fascinated by the unique sounds and rhythms of house and techno music, drawn to catchy tunes that are both technological and organic, Stephen Beaupré seeks to create an atmosphere where lightness and humour intertwine, with an edge of unpredictability and tension. His compositions belong to a disconnected house style tinged with the vitality of techno. Despite frequent and abrupt musical shifts, his compositions have a strong narrative structure. The spiky rhythms and heavy bass lines support the melodies emerging from the most unexpected sources.
Tickets and Special Offers
Price: $22
Tickets:
NAC Box Office
Ticketmaster: 613.755.1111
Online: www.quebecscene.ca
Barrymore's Music Hall
Quebec Scene Discovery Package
Buy any three shows from this list and your fourth one is free.*
* The free selection must be of equal or lesser value than the lowest priced show.
Get 4 shows for as little as $30!
Sights and sounds - Bandeapart
++Plaster

++Ghislain Poirier

++Stephen Beaupré

++Lesbians on Ecstasy