Music
Lesbians on Ecstasy, Lindsay Ferguson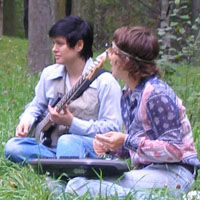 Lesbians on Ecstacy
The Lezzies On X are a plunder music project, taking inspiration from the lesbian back catalogue by referencing folk artists and punk bands alike, re-writing lesbian history for the dance floor. They use the source material in a musical collage that crosses a wide spectrum of musical styles, all within the dance genre. One of their obsessions has been to develop their own way of playing dance music live, using an electronic drum kit, bass guitar and an array of synths. The insistence on such a strong technological presence in their music serves to highlight the absence of technology in the majority of lesbian music, which privileges acoustic sound as authentic lesbian expression.
Lately, L.O.E. are keeping the same concept, but diving deeper into the lesbian vaults. The new recordings are focused on womyn's music from the 70s, in both content and style. They are using this as an opportunity to explore the idealism and optimism present in early feminist theory and music and examine the ways in which these themes have disintegrated today.
The Lesbians on Ecstasy are making electronic music of the lesbian variety. It's kd lang, but it's different somehow... Lesbo folk songs, rebel songs and beats for the modern lesbian. Straights and dudes love it too.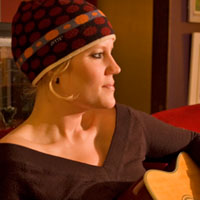 Lindsay Ferguson
Born in Bermuda, Lindsay Ferguson moved to Canada at the age of 4. As a child, her Journalist/Radio-Broadcaster Father would regularly interview her. But instead of answering his questions directly, she would sing songs back to him. Engrained in her blood, sweat and tears, Music has been the focal point throughout her life.
Destined to be a song-writer as well as a singer, Lindsay bought her first left-handed guitar in 2000 and has been writing and playing her own original music ever since. Influenced by such greats as Joni Mitchell and Kate Bush, Lindsay's sound has developed over the years into a more Folk/Pop style.
Lindsay has been fortunate enough to have been a featured performer on many radio stations and television programs including the CBC and The New RO. It is this dedication to her dream which has brought Lindsay a long list of support from venues all across Canada, including Blacksheep Inn in Wakefield Quebec.
Although Lindsay's writing is inspired by her home and surrounding in the Gatineau Hills of Quebec, Lindsay frequently, and regularly, tours as far away as Switzerland, Ireland, California and Bermuda.
Currently Lindsay is recording a new Full Length Album with producer great, Mr. Dave Draves of Little Bullhorn Studios in Ottawa, Ontario.
Tickets and Special Offers
Price: $10
Tickets:
Online : www.theblacksheepinn.com