Music
Ariane Moffatt
With folk in her heart, electro in her lungs and jazz in her blood, Ariane Moffatt dives into the depths of her inner world. In this vast ocean where imagination reigns supreme, she combines words and sounds, coral and fish, to craft songs. Her huge talent combined with an electric stage presence won her the Female Artist of the Year award at the 2006 ADISQ Gala.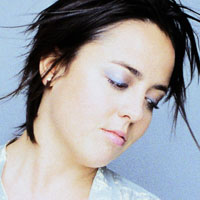 Ariane Moffat
Born on April 26, 1979, singer/songwriter Ariane Moffatt is also the coproducer of her first two albums, Aquanaute and Le cœur dans la tête.
Aquanaute (released in 2002 on the Audiogram label) went platinum in Quebec and was released in Europe in 2005 on the EMI/Virgin label. A skilful blend of electro-folk, jazz and pop, Aquanaute was an instant success, earning 11 nominations at the 2003 ADISQ Gala and winning three Félix awards (for Discovery of the Year, Album of the Year – Pop/Rock, and Album Producer of the Year, an honour Ariane shared with her colleagues Francis Collard and Joseph Marchand). Joseph was also immortalized in the delirious music DVD Ariane Moffatt à la Station C, released in May 2005.
Her second album, Le cœur dans la tête, was released in November 2005. It's a musical adventure full of contrasts, eclecticism and intimacy, featuring 12 selections with a flavour of R&G ("Rhythm and Grunge," laughs Ari!). Within the organic album cover, groove keeps pace with wicked guitar riffs backed by electro cricket sounds.
Both Aquanaute and Le cœur dans la tête open an intimate window onto Ariane's deeply personal universe and unmistakably contemporary sound. Hardly surprising to hear that her influences range from Nick Drake, Tori Amos and the Brazilian Girls to M, Ferland and Gilles Vigneault (whose Le Grand Cerf-Volant she's updated for her own live show).
With her enormous talent and stunning stage presence, Ariane Moffatt is one of the brightest stars on the Quebec music scene today.
(Source: www.arianemoffatt.com [transl.])

Tickets and Special Offers
Price: $25
Tickets:
NAC Box Office
Ticketmaster: 613.755.1111
Online: www.quebecscene.ca
Barrymore's Music Hall
Quebec Scene Discovery Package
Buy any three shows from this list and your fourth one is free.*
* The free selection must be of equal or lesser value than the lowest priced show.
Get 4 shows for as little as $30!