Music
Les Goules

Direct from Quebec City, Les Goules invade the stage with their wild costumes and explosive performance. Both tender and forceful, their songs are disturbing, full of humour, irony and bite. Swimming against the current from the start, they deliver theatrical and poetic rock with perseverance, originality and integrity. "Asylum metal glam rock" for a completely unhinging evening.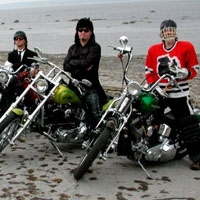 Les Goules
Formed in July 2001, Les Goules quickly attracted attention for their high-energy franco-rock, attention-grabbing lyrics and original staging. Just under a year later, after performing several live shows in Quebec City and Montreal, they released their self-titled, self-produced debut album. Les Goules were all over the local community and university airwaves; they garnered enthusiastic praise from the local print media, and made it to the semi-finals of the 2002–03 Francouvertes music competition.
Now with two self-produced albums to their credit (and a third in the works), Les Goules have performed throughout their native province and show remarkable staying power for an independent band—from Quebec, no less! Iconoclasts from the start, they deliver theatrical, lyrical rock that really stands out from the crowd.
Their trademarks are dedication, originality and artistic integrity. Constantly updating and fine-tuning their performances, firmly committed to delivering unique original material to a discerning audience of faithful fans, they've carved out a very special place in Quebec's musical landscape.

Tickets and Special Offers
Price: $10
Tickets:
NAC Box Office
Ticketmaster: 613.755.1111
Online: www.quebecscene.ca

At the door (1 hour before showtime)
Quebec Scene Discovery Package
Buy any three shows from this list and your fourth one is free.*
* The free selection must be of equal or lesser value than the lowest priced show.
Get 4 shows for as little as $30!