Music
Les Trois Accords, Pépé et sa Guitare
This is an all ages event.
Les Trois Accords burst onto the airwaves in the summer of 2004 and haven't let up since! From the huge success of their delirious Hawaïenne to the more recent Grand Champion...they've been basking in glory with zany songs and festive pop-rock that is oh-so-contagious!
In a different but equally funny and biting vein, Pépé walks onto the stage alone, with his trusty guitar. Part Brassens, part Cobain and part Plume, he tosses off songs that are sometimes crude, sometimes sarcastic, but always catchy.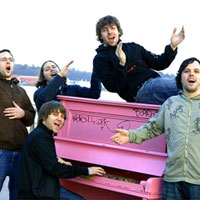 Les Trois Accords
You've just gotta love Les Trois Accords! They burst onto the scene in the summer of 2004 with their delirious hit "Hawaiienne," followed by the equally popular "Loin d'ici." But first and foremost, Les Trois Accords are a pop-rock group with a laid-back, convivial and festive vibe. Their lyrics are often playful, even ridiculous, yet full of meaning that reaches out to connect with each and every listener.
After the re-release of their Gros Mammouth Album (aptly rechristened Gros Mammouth Album Turbo for the occasion), the group's recognition factor really took off. "Hawaiienne" invaded the airwaves, both on TV (Musique Plus) and on radio (CHOI, CKOI, Radio Énergie), while the band packed out the Club Soda. Ever since, our talented protagonists have been criss-crossing the province, lugging their instruments and their musical repertoire. Their sold-out shows at the Festival d'Été de Québec, the Montreal Francofolies, and the Musique Plus 18th birthday bash at the Bell Centre confirmed their phenomenal popularity.
Every good story has a beginning… The first incarnation of Les Trois Accords was as a duo, formed in 1997 by Simon Proulx (guitar and vocals) and Olivier Benoît (vocals). They were soon joined by Alexandre Parr (guitar), then by Charles Dubreuil (drums) and Pierre-Luc Boisvert (bass). Now they were ready to tackle some serious stuff.
Henceforth a quintet and the quintessence of masculine beauty, Les Trois Accords launched their independent Gros Mammouth Album (produced by Jérôme Boisvert) in December 2003. This paved the way for their conquest of the world, beginning with their dazzling success on CISM (the Université de Montréal radio station). Signing with Indica Records, they started spreading the good news: "Les Trois Accords love you!!!" The effect was immediate and profound: their songs tantalized the spirit, the better to touch the heart.
The disc went platinum in the fall of 2004 and Les Trois Accords' tour schedule accelerated accordingly. The grand adventure continued in 2006 with a jaunt to France and the much-anticipated release of their new album, Grand champion international de course.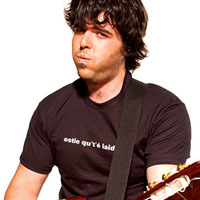 Pépé et sa Guitare
Kébeco-folk-punk singing sensation, engaging and generous stage performer, talented musician switching effortlessly from guitar to ukulele—meet Pépé! He recently released his second album, Fakek'choz. Sharper, funnier, more tender, more tuneful, more mature, more, more, more… and always more charismatic.
In richly evocative lyrics, he tackles such hot topics as drug abuse (Bourrée d'fond d'bag), malnutrition (Le mangeux de bines), life itself (La Vie), and even fast food (Gros Tas)! In live performance, Pépé peppers the audience with blasts of heartfelt, unpretentious poetry… and his insatiable fans clamour for more.
He delivers his imposing repertoire (51 songs on 2 albums!!!) straight up, with the ease and spontaneity of a seasoned veteran. His smile will put you in a party mood and his songs will stay in your head for a long time. Pépé, contagious? You got it!
Awards and honours
Festival en Chanson de Petite-Vallée 2002
Découverte de la chanson de Magog 2003
Cégeps en spectacle 2002
Tickets and Special Offers
Price: $22
Tickets:
NAC Box Office
Ticketmaster: 613.755.1111
Online: www.quebecscene.ca

At the door (1 hour before showtime)
Quebec Scene Discovery Package
Buy any three shows from this list and your fourth one is free.*
* The free selection must be of equal or lesser value than the lowest priced show.
Get 4 shows for as little as $30!