Music
Call Me Poupée
One guy, Ken Fortrel, a former member of the Secrétaires volantes. One girl, Poupée. Together they form the eclectic group Call Me Poupée. Cutting a broad swath through pop from the 1960s to the present, they've worked with some of Montreal's most prominent musicians. Keyboards, guitar, electronic instruments and Poupée's deliciously naïve vocals are sure to promise to really get the joint jumping to musical strains from Gainsbourg to rockabilly to electro.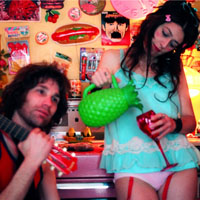 Call me poupée
Call Me Poupée was formed two years ago by two active musicians who have blossomed within Montreal and Quebec City's local music scenes. They have sprung out of other bands, such as Les Secrétaires Volantes, Les Slotmachines, Ève Cournoyer, Les Breastfeeders and the Demons Claws, who have made lasting impressions in Quebec's musical universe.
Since the end of 2004, Call Me Poupée has played over 40 shows, opening for acts such Eleni Mandell, Les Georges Leningrad, King Khan, We are Wolves, and the French band Les Prototypes during their pan-American tour, enabling them to perform outside of Quebec, in Ontario and New York. The duo has been invited to the Osheaga festival (MEG), Les Coups de Cœur Francophones (2005), the Pop Montreal Festival and the Francofolies de Montréal. Their first demo, contatining 2 tracks, appeared on numerous radio charts such as Radio-Canada, CISM, CIBL, CKRL and CKUT.
Call Me Poupée will bring you to a place where cowboys and Indians listen to space age pop and dance to throbbing electro-gogo-garage. Call Me Poupée's debut album has finally arrived. The Montreal duo consisting of Ken Fortrel on guitars, keyboards and electronics along with the captivating Poupée on vocals and guitars have put together thirteen songs for their full length Western Shanghai. With the aid of producer Ramachandra Borcar (aka Ramasutra / DJ Ram) the songs combine Ennio Morricone's spaghetti western soundtracks, 60's spy themes, surf and rockabilly with electronic beats and keyboards. The icing on the cake of course are the sweet vocals a la Gainsbourg au feminin sung in both French and English.
Guest musicians include the cream of the crop from Montreal's underground, featuring members of Les Secretaires Volantes, Les Georges Leningrad, Bionic, The Gruesomes, The Kingpins and the brass section from Ram's Steel and Glass album. Evocative lyrics and cinematic arrangements.
More recently, Call Me Poupée won the Rising Star –The new artist from which we can expect the most in the new year 2007 award, at the 2006 MIMI Gala and was invited to play at SXSW 2007!

Tickets and Special Offers
Price: $10
Tickets:
NAC Box Office
Ticketmaster: 613.755.1111
Online: www.quebecscene.ca

At the door (1 hour before showtime)
Quebec Scene Discovery Package
Buy any three shows from this list and your fourth one is free.*
* The free selection must be of equal or lesser value than the lowest priced show.
Get 4 shows for as little as $30!