Music
Les Breastfeeders, Xavier Café́ïne
Two rock giants are emerging! Les Breastfeeders is a Montréal sextet that mixes 1960s garage rock with punk and 1980s pop to create music that they describe as "rock and French chanson roll." Xavier Caféïne, a native of Aylmer and pioneer of Quebec's alternative culture, has blasted the airwaves with his latest album, Gisèle; songs that quickly take root and ruffle the purists' feathers. A show that will scramble your brain cells!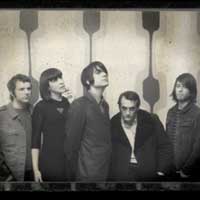 Les Breastfeeders
"This is the Godzilla of '60s-style Québécois garage rock, faster than light and louder than God."
– Jamie O'Meara, Hour, Montreal
Déjeuner sur l'herbe, the first album from Montreal rock outfit Les Breastfeeders, conquered both the public and the critics after its release in 2004 on the Blow The Fuse label. Since then, Luc Brien (vocals and guitar), Suzie McLeLove (vocals and guitar), Sunny Duval (lead guitar), Joe (bass), Johnny Maldoror (tambourine) and Fred Fortin (drums) have been touring Quebec with their frenetic and contagious live show.
Invited to perform at numerous festivals and events (Francofolies de Montréal, Festival d'été de Québec, Fête de la St-Jean in Quebec City, Art Vocal de Trois-Rivières, Chanson de Tadoussac, CBC Radio 3/Bande à part Vancouver concert...), the band also received the Prix Miroir de l'Artiste d'ici at the 2005 Festival d'été de Québec and the Power and Stage Beast awards at the 2005 MIMI gala (Montreal International Music Initiative), and their song "Angle Mort" won SOCAN's "Chanson primée" prize in 2003. Several cuts from the album have topped radio charts across the province, and two of their videos got heavy airplay on Musiqueplus. They've also flirted with the United States, where they've played over a dozen gigs and appeared on important free-form and college radio charts (WMBR, WFMU, KALX…).
In spring 2006, Les Breastfeeders roared back with Les matins de grands soirs. Recorded in Montreal at the Breakglass and Beatbox studios, by Ryan Battistuzi (Malajube, Yesterday's Ring), this new album does justice to the band's incandescent sound and energy. On top of the dizzying tour schedule and the excitement surrounding the Canadian release of Les matins de grands soirs, the record will be released in France on the Boxson label (Le Nombre, Prototypes) and in the United States in winter 2007.
Supported by Bonsound (management and booking), Blow The Fuse (label) and a strong new album, Les Breastfeeders are ready for a major invasion of radio stations and performance venues here and abroad.
(Source: www.lesbreastfeeders.ca [adapted])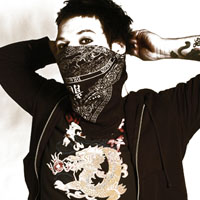 Xavier Caféïne
Singer/songwriter and raging alterno culture pioneer Xavier Caféïne founded the group Caféïne in 1997. Critics raved about their first two albums, Mal éduqué mon amour (1997)—which, to the artist's own surprise, became a huge underground punk hit and catapulted him to near-cult status—and Pornstar (bilingual, 2000). He was hailed as a rock god at a time when electro seemed to be taking over. His fame spread to Toronto, where he made the cover of NOW entertainment weekly.
After the group's farewell concert in 2002 at Montreal's Café Campus, Xavier Caféïne formed the anglophone group Poxy. Their eponymous album, released in 2004, evoked the sound of groups like the Pixies and boasted impressive production values (producer Phil Electric having joined the ranks of the band). The album racked up yet another critical hit and further expanded the artist's growing fan base.
Following the Poxy adventure, the group re-formed as Caféïne and made a frenetic appearance at the 2005 FrancoFolies de Montréal. Meanwhile, Xavier was working on his first solo album, Gisèle, released in 2006.
Xavier Caféïne's musical style is hard to pin down: his sound is a mélange of punk, glam-punk, garage rock 'n' roll and pop. One thing's for sure, though: Xavier Caféïne, colourful character that he is, always plays music he loves… and he knows how to write pop songs that really stay in your head.
(Sources: www.xaviercafeine.com, www.bandeapart.fm/artistes_enrichies.asp?id=669 [transl.])

Tickets and Special Offers
Price: $18
Tickets:
NAC Box Office
Ticketmaster: 613.755.1111
Online: www.quebecscene.ca

At the door (1 hour before showtime)
Quebec Scene Discovery Package
Buy any three shows from this list and your fourth one is free.*
* The free selection must be of equal or lesser value than the lowest priced show.
Get 4 shows for as little as $30!