Music
Oliver Jones Trio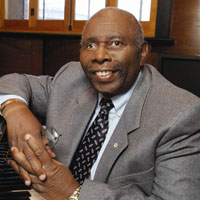 Oliver Jones Trio
Jazz pianist Oliver Jones is one of Canada's most beloved and admired musicians and most distinguished cultural ambassadors. A legend in the international jazz community, he has toured tirelessly in Canada and around the world and has devoted much of his time to encouraging young Canadian musicians as they begin their careers.
He was born in Montreal in 1934 and studied piano with Daisy Peterson, his friend Oscar's sister. By the time he was 17 he was playing regularly in clubs and hotels around the city, and it was there, in the early 1960s, that he hooked up with Jamaican calypso singer Kenny Hamilton. For the next 20 years he worked as Hamilton's music director and pianist, touring the Caribbean and the U.S.
He returned to Montreal in 1980 determined to pursue jazz professionally, and got a job at Biddle's, a legendary downtown club run by bassist Charlie Biddle. Soon afterwards, Jim West, founder of the Justin Time label, invited him to record an album: the result was Live at Biddles , featuring Oliver Jones and Charlie Biddle. Over the next 15 years he released over a dozen albums, performing his own compositions and jazz standards, and worked with Montreal's leading musicians. In 1993 he received the Martin Luther King, Jr. award for Excellence in Music and was appointed an Officer of the Order of Canada; the following year he was named a Chevalier de l'Ordre national du Québec.
Oliver Jones "retired" in 2000 but still makes over 20 appearances yearly, including numerous charity benefits. In recent years he has contributed his expertise to the du Maurier Arts Council, served as artistic director of the jazz segment of the Montreal Chamber Music Festival, and acted as consultant to Georges Durst, founder/owner of the House of Jazz in Montreal. His latest recording, One More Time , with bassist Dave Young and drummer Jim Doxas, was released in June 2006.

Tickets and Special Offers
Price: $35
Tickets:
NAC Box Office
Ticketmaster: 613.755.1111
Online: www.quebecscene.ca

At the door (1 hour before showtime)