Music
Daniel Thouin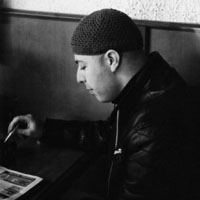 Daniel Thouin
Presented in association with Galaxie.
Daniel Thouin made his musical debut at the age of seven, perched at the family organ. At 17 he decided to concentrate on piano, and after a brief period of classical study he discovered the joys of improvisation. He switched from classical to jazz, and drew inspiration from new technologies as they emerged. He has performed with most of Montreal's leading jazz musicians and collaborated (live and on disc) with, among others, singer/songwriters Marie-Jo Thério, Fred Fortin, Mara Tremblay, Yann Perreau and Pierre Flynn. He's one of the few Quebec musicians equally at home with electro-pop and modern jazz.
(Source: Espace musique - www.radio-canada.ca/radio2/artistes/93.shtml [transl.])

Tickets and Special Offers
Price: $15
Tickets:
NAC Box Office
Ticketmaster: 613.755.1111
Online: www.quebecscene.ca
Quebec Scene Discovery Package
Buy any three shows from this list and your fourth one is free.*
* The free selection must be of equal or lesser value than the lowest priced show.
Get 4 shows for as little as $30!