Music
Susie Arioli Band with Jordan Officer

Presented by Maison de la culture de Gatineau
Velvet-voiced singer Susie Arioli and rock-solid guitarist Jordan Officer take the stage with their irresistible mix of jazz classics and original blues and swing numbers. The Susie Arioli Band's straightforward, unaffected style and pure sound are unique on the music scene. Smooth, jazzy and delightful! "Together, they explore the classic jazz repertoire in a unique way, with taste and confidence... Nothing but the best of the best." (S. Cormier, La Presse)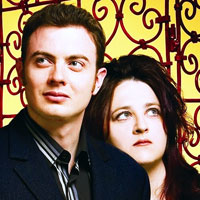 Susie Arioli Band and Jordon Officer
Since the release of their debut album, It's Wonderful, in 2001, Susie Arioli and Jordan Officer have been making jazz lovers very happy. In 2002, they gave us the wonderful Pennies From Heaven. Their third album, That's For Me (featuring a few originals by Jordan Officer), will appeal to anyone graced by the work of these musicians who approach the music in an elegant, warm and very modern way.
Singing and playing the snare drum, Susie Arioli—or "Mademoiselle Swing," as the critics like to call her—has found the perfect partner in Jordan Officer, a highly talented guitarist and arranger. "Together, in their own unique way, they explore the classic jazz repertoire with taste and daring, as well as other classic styles including blues and Western swing. Nothing but the best of the best..." (S. Cormier, Le Devoir)
Since that fabulous evening in the summer of 1998 when they brilliantly opened for Ray Charles, the Susie Arioli Band have been performing across Quebec and Canada and increasingly in the U.S., Europe and Asia. Joined by Shane McKenzie on bass, Susie and Jordan reach an ever-growing audience. The group's most memorable performances include appearances at the Montreal International Jazz Festival, New York's Birdland Club, Paris' Django Reinhardt Festival and London's Royal Festival Hall.
Susie Arioli and Jordan Officer are currently on the road with the songs from That's For Me. They've also just finished recording their next CD, scheduled for release in the fall of 2007.

Tickets and Special Offers
Price: $28
Tickets:
Odyssée Hall Box Office
819.243.2525