Music
Derome, Guilbeault, Tanguay Trio / Bourassa, Derome, Tanguay
Bourassa, Derome, Tanguay
Three outstanding musicians in a unique, entertaining performance that's part jazz and part musique actuelle, seasoned with plenty of irony and humour. Francois Bourassa (piano), Pierre Tanguay (percussion) and Jean Derome (reeds +) are intelligent jokers who will have you laughing and dancing. Their show at the 2006 Montreal International Jazz Festival was a sold-out hit!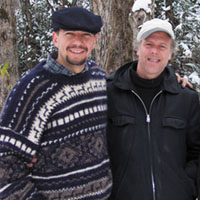 Derome, Guilbeault, Tanguay Trio
A mainstay of the Montreal jazz scene, the Derome Guilbeault Tanguay Trio is hailed for its irresistible swing, unfailing cheerfulness, bold approach and verve, tight ensemble playing, original repertoire, and authentic style reflecting the musicians' vast knowledge of jazz… a form they're actively working to promote and revive.
The Trio is Jean Derome on saxophones and flutes, Normand Guilbeault on double bass, and Pierre Tanguay on drums. These three musicians are well known in the Montreal music community, and though they're best known for their work in new music and jazz, they're often spotted accompanying the city's best singer/songwriters, poets, filmmakers, choreographers, etc.
Now almost 10 years old, the Derome Guilbeault Tanguay Trio has performed many different programmes: tributes to Billy Strayhorn and Charles Mingus, an excursion into the Swing repertoire of the '30s and '40s, with renditions of tunes by Johnny Hodges, Ben Webster, Coleman Hawkins, etc.; and more recently, serious forays into the music of Eric Dolphy, Sonny Clark, Misha Mengelberg, Roland Kirk, Lee Konitz and Lennie Tristano. The Trio has also played concerts entirely devoted to Jean Derome's music, particularly as part of his April 2000 Exposition de musique at Montreal's Théâtre La Chapelle.
A faithful and ever-growing audience follows the Trio everywhere it performs, and the concerts attract an impressive number of young jazz musicians.
(Source: www.actuellecd.com)
Tickets and Special Offers
Price: $20
Tickets:
NAC Box Office
Ticketmaster: 613.755.1111
Online: www.quebecscene.ca

At the door (1 hour before showtime)
Quebec Scene Discovery Package
Buy any three shows from this list and your fourth one is free.*
* The free selection must be of equal or lesser value than the lowest priced show.
Get 4 shows for as little as $30!