Music
Torngat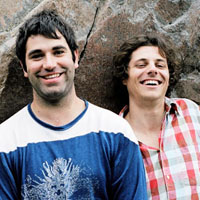 Torngat
Pietro Amato (French horn), Mathieu Charbonneau (keyboards) and Julien Poissant (drums) founded Torngat in 2001 with ex-bass player Sylvain Delisle. Sylvain left the group in 2003 shortly after the release of their first full length cd (self-titled, 2003). Since then, the trio has released a live cd and most recently, an EP (La Rouge, 2005). Torngat has presented it's music in numerous types of venues such as rock clubs across Eastern Canada, popular music festivals (Pop Montréal 2004,2005), new music festivals (Radicaliberté 2003) and as a part of contemporary dance shows (Catherine Leblanc's A-miss). Playfully avoiding every possible pigeon hole, Torngat's compositions and improvisations engage listeners with beautiful melodies, and unexpected surprises.
"French horn, keyboards and drums can hold infinite possibilities, as this Montreal trio aptly demonstrates. Pietro Amato (Bell Orchestre, occasionally Arcade Fire), Mathieu Charbonneau and Julien Poissant also juggle duelling melodicas, percussion and an arsenal of effects to create captivating soundscapes and compositions that unexpectedly flowered into dance beats by the set's conclusion. Can Montreal fit another spellbinding instrumental band inside the city walls? Absolutely." (Michael Barclay, Exclaim! 2004 Pop Montreal Festival review)

Tickets and Special Offers
Price: $15
Tickets:
NAC Box Office
Ticketmaster: 613.755.1111
Online: www.quebecscene.ca
Quebec Scene Discovery Package
Buy any three shows from this list and your fourth one is free.*
* The free selection must be of equal or lesser value than the lowest priced show.
Get 4 shows for as little as $30!