Music
André Leroux Quartet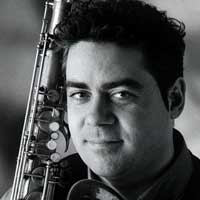 André Leroux Quartet
Saxophonist, clarinetist and flautist André Leroux is equally at ease performing jazz, classical, pop and new music.
He was born in 1963 in Saskatoon, SK, and studied at Montreal's Cégep St-Laurent (diploma in music studies) and the Université de Montréal (B.A. in classical music performance).
His career started to take off in the mid-1980s: he played with several well-known ensembles, including the Vic Vogel Band (where he was rechristened "The Kid"), and in 1986 he toured with the Montreal Saxophone Quartet under the auspices of Jeunesses musicales du Canada. In 1987 he received the "Espace français" grant for his solo performance at the inaugural Concours de musique française de Montréal. Since then, his many collaborations with fellow musicians have taken him around the world, notably to China, Sweden, France and Africa.
Though strongly influenced by the legendary John Coltrane and Sonny Rollins, André Leroux quickly developed a style and sound of his own—unpretentious, hot, energetic and explosive. Acknowledged as one of Canada's leading saxophonists, André Leroux is a master at exploring the many capabilities of his instrument.
Recent engagements include appearances with the François Bourassa Ensemble, the Quasar new music quartet (which he co-founded), and pianist James Gelfand.
"Not content merely to imitate the style of the masters, he's invented his own. Ultra-low notes, super-high notes, insistent rhythms, the reed whispering and sounding simultaneously, dives, swoops, dizzying ascents, cascading falls… and then some. At fortysomething, Leroux has all the maturity of the greats, the technique of the greats, and the adventurous spirit of the greats." (Alain Brunet, La Presse)

Tickets and Special Offers
Price: $15
Tickets:
NAC Box Office
Ticketmaster: 613.755.1111
Online: www.quebecscene.ca
Quebec Scene Discovery Package
Buy any three shows from this list and your fourth one is free.*
* The free selection must be of equal or lesser value than the lowest priced show.
Get 4 shows for as little as $30!