Music
Samina and Harold Faustin
Her warm, enveloping voice packs plenty of feeling and has been compared to that of Sade. She is Samina, a bewitchingly elegant and enigmatic Métis singer from Montreal. Her magnificent voice is backed by the music of prestigious jazzman Harold Faustin. From classic rhythms, jazz, blues, funk, and afro-Caribbean music to songs by Gershwin, Porter, Cohen, and even Dubois, Cabrel, and Dassin, they deliver an easy, smooth performance that's pure pleasure for your ears.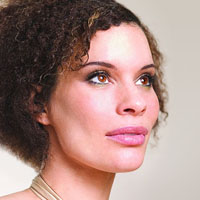 Samina and Harold Faustin
Samina
On January 26, 2003, my great friend Michel Abitbol invited me to sing a jazz number at the opening of his new show at the Lion d'Or, Regarde-moi, an evening of cabaret, music and comedy. Wow!
It was amazing to feel the heat of the stage lights on my skin, the energy of a supportive crowd, the sensation of lightness as I sang. My whole life changed in an instant: ever since then I've been a complete jazz nut!
I signed my first record deal with Orange Music in 2004; my debut album, How I Feel, came out on March 15, 2005 and sold over 10,000 copies in Quebec.
Highlights of 2005 included performing at the Montreal International Jazz Festival (I opened for Michael Bublé at Place des Arts and played the "Nightcap Couleur Jazz" midnight series in the Savoy at the Métropolis) and appearing in The Real Divas at the Toronto Jazz Festival. In November I made my debut at the Spectrum in Montreal.
My second album, Dans mon rêve, was released in May 2006, and I launched a provincial tour that will take me into 2007.
- Samina
Source: Agence Spectra Scène, www.agencespectrascene.com
Harold Faustin
With over 200 original compositions to his credit, Harold Faustin is one of the hottest young jazzmen on the Montreal music scene. Melodious, rhythmic and compelling, his sound transcends conventional genres in a style all its own, resonant with echoes of jazz and Afro-Caribbean folk.
Harold has what it takes to make memorable music: solid technique combined with a taste for innovation, an active social conscience, and a hint of poetry! His music is a shimmering blend of jazz, classical, blues and funk. Determinedly different, unswervingly passionate about his art, Harold Faustin is on the leading edge of a new musical age.
Tickets and Special Offers
Price: $15
Tickets:
NAC Box Office
Ticketmaster: 613.755.1111
Online: www.quebecscene.ca
Quebec Scene Discovery Package
Buy any three shows from this list and your fourth one is free.*
* The free selection must be of equal or lesser value than the lowest priced show.
Get 4 shows for as little as $30!