Music
Taïma

Taïma is Élisapie Isaac and Alain Auger. She is an Inuk from Quebec's "Grand Nord", an intense and bold voice firmly attached to her roots. He is a francophone Quebecer from the Abitibi region – the "Petit Nord" – a committed and curious composer/musician. Their heartfelt songs touch the soul and the spirit, mixing fire and ice in soaring, earthy, sensual and at times even abrasive rhythms. It's a meeting of hot and cold, humanity and nature.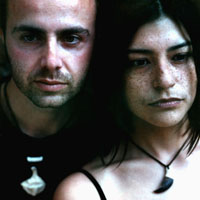 Taïma
Taima is Aboriginal singer Élisapie Isaac and Quebec composer Alain Auger. It's also the expression of visions that change according to the way you look at a person, an emotion, a culture or a place.
The two artists met in Montreal in July 2000 at a photo exhibit about the Great North. She: filmmaker, singer/songwriter from Salluit, Nunavik. He: composer and musician from Rouyn-Noranda, in Quebec's Abitibi region. Despite their different backgrounds, the two discovered they had a lot in common. They decided to collaborate on a project that would convey the idea of renewed and better relationships between "Whites" and Inuit people.
They made their stage debut in Montreal at the 2002 Coup de cœur francophone, then set out on a tour that would take them across Canada and to the United States and France. Backed by a group of talented musicians, they released their first album, Taima, in 2004. The disc was nominated for "Best Artist performing in a language other than French" at the ADISQ Gala, as well as for Best Folk Album, Album Cover of the Year, and Album of the Year at the Aboriginal Music Awards in Toronto.
"Taima" is a widely used Inuktitut expression that means "Enough! It's over. Let's move on."

Source: Radio-Canada Espace musique, www.radio-canada.ca/radio2 (transl.)

Tickets and Special Offers
Price: $20
Tickets:
NAC Box Office
Ticketmaster: 613.755.1111
Online: www.quebecscene.ca

At the door (1 hour before showtime)
Quebec Scene Discovery Package
Buy any three shows from this list and your fourth one is free.*
* The free selection must be of equal or lesser value than the lowest priced show.
Get 4 shows for as little as $30!