Music
Constantinople
The city of Constantinople was the legendary crossroads of Eastern and Western culture. This group's interpretations of songs from the Middle Ages and the Renaissance draw on their knowledge of classical Persian and ancient European music in a rich and lively manner that leaves plenty of room for improvisation and creativity. Building on the success of this cultural mix, Constantinople is now tackling North America with its Terra Nostraproject, exploring 17th-century Mexican music with musicians from the Veracruz region.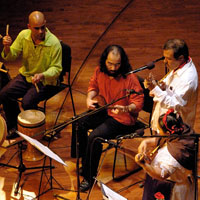 Constantinople
Since its inception in 1998, Constantinople has endeavoured to find a unique mode of expression and a new, creative approach to interpreting the music of the Middle Ages and the Renaissance. To do so, the group juxtaposes a careful study of historical manuscripts with a pursuit of the living oral tradition of the Near and Middle East—more specifically, the classical Persian tradition.
The ensemble uses early European instruments such as the lute, vihuela, medieval harp, viola da gamba, vielle, recorder, cornetto and shawm, alongside instruments from the Middle East such as the setar (a plucked stringed instrument from Persia), the tombak, daf and dayereh (Persian percussion instruments), and the oud (one of the most ancient instruments of the Middle East and the Mediterranean, and the ancestor of the European lute).
These instruments have a rich history and a musical heritage that is kept alive by each of the musicians in the ensemble. Through their knowledge and skills, the members of Constantinople breathe new life into music of the past while creating a new, rich esthetic experience in the present.
Constantinople, under the artistic direction of Kiya Tabassian, explores the music from the cultural sphere of the Mediterranean in the Middle Ages and Renaissance. The group cultivates a unique form of expression that gives free rein to creativity and improvisation, yet respects the basic forms of the music it seeks to reinterpret.

Tickets and Special Offers
Price: $20
Tickets:
NAC Box Office
Ticketmaster: 613.755.1111
Online: www.quebecscene.ca

At the door (1 hour before showtime)
Quebec Scene Discovery Package
Buy any three shows from this list and your fourth one is free.*
* The free selection must be of equal or lesser value than the lowest priced show.
Get 4 shows for as little as $30!