Music
Colectivo, Afrodizz
This show is hot! Colectivo is an instant Mexican fiesta, a gathering of a dozen musicians from Montreal's alternative scene for an energetic,
colourful, and rhythmic concert. The eight members of Afrodizz trace their musical roots to the tradition of Afrobeat master Fela Kuti. Their mix of Nigerian rhythms and popular afro-American music, soul, funk, and jazz creates an irresistible groove with the ambiance of a Nigerian cabaret.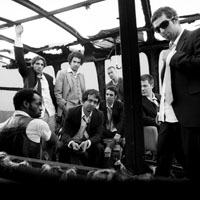 Afrodizz
The Afrodizz sound grew out of Nigerian 1970s Afrobeat, a mix of traditional African harmonies and rhythms with Afro-American soul, funk and jazz. Formed in 2002 by jazz guitarist Gabriel Aldama, this Montreal-based powerhouse has quickly become one of Canada's premiere Afrobeat outfits. Inspired by legendary Nigerian musician Fela Kuti, the group's eight stellar musicians use their jazz experience to bring a modern urban touch to the foundation sound, including compositions by Fela Kuti and his son Femi.
Afrodizz plays regularly all over Montreal and across Canada, and audiences everywhere agree: this group will really move you—literally! Their live performances are bona fide dance floor burners.
Afrodizz is Vance Payne, vocals; Gabriel Aldama, guitar; Frédé Simard, tenor sax; François Glidden, baritone sax; David Carbonneau, trumpet; François Plante, bass; François Vincent, percussion; and Jean Philippe Goncalves, drums.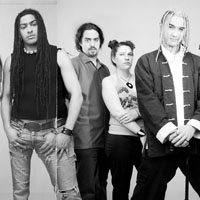 Colectivo
In Mexico, a "colectivo" is the packed bus you wait for under a broiling sun. Even though it's jammed with people and exploding with noise, it's always a relief to climb aboard, and most of the time you even make it to your destination. "Colectivo" also means community spirit, the force that binds a group of people with shared values and ideals. "Colectivo" is a musical movement rooted in the social and political awareness of a community of artists. It's the power of hope in the midst of hardship, the non-violent struggle to share the best and most beautiful. Colectivo is a call to action for youth, a plea for a just and free society. It's the embodiment of social and musical currents in Quebec today, the voice of an open, progressive, committed and pacifist generation. It's a unique gathering of 13 (or 15 or 17) musicians from some of Montreal's best alternative bands—Overbass, Grimskunk, Redcore, Funkophones, BARF and more.
Energetic, colourful and rhythmical, a Colectivo concert is an instant Mexican fiesta! Audiences go crazy for the band's irresistibly catchy tunes, and the powerful alchemy of charismatic lead duo Shantal Arroyo and Blacky will have you dancing the night away.

Tickets and Special Offers
Price: $18
Tickets:
NAC Box Office
Ticketmaster: 613.755.1111
Online: www.quebecscene.ca

At the door (1 hour before showtime)
Quebec Scene Discovery Package
Buy any three shows from this list and your fourth one is free.*
* The free selection must be of equal or lesser value than the lowest priced show.
Get 4 shows for as little as $30!