Music
Nedjim Bouizzoul and Labess
"Labess" is Arabic for "things are going well". It aptly describes the success enjoyed by young Algerian guitarist Nedjim Bouizzoul and his talented musicians. With his husky voice and undeniable charm, he sings – in Arabic and French – about hope, dignity, and the need to live in peace and unity. His music reveals the beauty and depth of a repertoire that fuses Gypsy rumba and flamenco with gnawa, chaabi, and other traditional North African rhythms.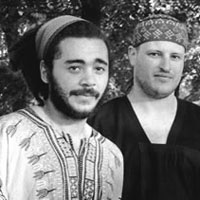 Nedjim Bouizzoul et Labess
Born in Algeria-and recently arrived in Montreal, singer/songwriter/guitarist Nedjim Bouizoul sings in French and Arabic about the turbulent daily life of his native country. His music speaks of hope and dignity, denouncing oppression and pleading for a world where people of every culture live together in peace and harmony.
In just a few months, the charming, gravel-voiced 20-year-old had conquered his adoptive city and its inhabitants with his spontaneous performances in the Montreal subway. His superb guitar work soon attracted the attention of fellow professionals in the local music community, and he put together an eclectic quintet he called Labess ("everything's fine" in Arabic): Nedjim himself, plus Pierre Emmanuel Poizat on clarinet, Takfarinas Kichou and Anes Beglerbegovic on percussion, and Georgi Stankov on bass.
Labess invites you to discover the beauty and depth of a repertoire that draws on such diverse sources as gypsy rumba, flamenco, and North African Gnawa, Chaabi, and traditional music.
After performing at several Montreal venues (Le Divan Orange, Les Bobards, Le Balattou), in January 2005 Labess made a guest appearance on the popular Télé-Quebec TV show Belle et Bum, hosted by Normand Brathwaite. That gig led to an invitation to open Montreal's Festival du Maghreb (the region of Africa north of the Sahara Desert and west of the Nile). Since then they've opened for the renowned Rachid Taha and performed at festivals throughout Quebec, always attracting an enthusiastic audience.
Labess's debut album is scheduled for release in spring 2007.

Tickets and Special Offers
Price: $15
Tickets:
NAC Box Office
Ticketmaster: 613.755.1111
Online: www.quebecscene.ca
Quebec Scene Discovery Package
Buy any three shows from this list and your fourth one is free.*
* The free selection must be of equal or lesser value than the lowest priced show.
Get 4 shows for as little as $30!