Music
Carlos Placeres, Joaquin Diaz, Caridad Cruz
Get ready for a wild Latin fiesta! The great "trovador" Carlos Placeres performs his own songs and traditional Cuban classics in the guaracha, bolero, and rumba styles, often with a jazz and samba influence. He'll be sharing the stage with the ambassador of Dominican folk music, lightning-fingered accordion virtuoso Joaquin Diaz, and the Chelsea Quebec's Cuban diva Caridad Cruz, whose warm voice carries all her love and pride of her native country.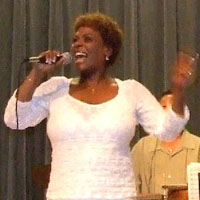 Caridad Cruz
Caridad Cruz Vilain was born in Havana, Cuba, into a musical family deeply rooted in Afro-Cuban culture. Her beloved father Daniel Cruz was an accomplished professional violinist, whose own mother was a first cousin of the great Celia Cruz.
In 1993, Caridad began her professional career with a six-month stint in Trinidad, Cuba, in hotels Costa Sur and Ancón. Over the next ten years in Havana she went on to sing in many venues and released her first CD, Caridad Cruz con el Grupo Habanero Son, in 2002.
In the fall of 2003, Caridad moved to Chelsea, Quebec to live with her Canadian husband. In March of 2004, she made her performing debut in Canada with Jane Bunnett's Spirits of Havana in a Toronto concert Global Divas that earned a rave review in the Globe and Mail and was twice aired nationally on CBC Radio.
In May 2006, Caridad's new band Kubacua made its debut performance before a packed house at Le Petit-Chicago in Hull, Quebec. Caridad gave concerts in the United-States where she was accompanied by some of New York's most talented Latin jazz players, like bassist Ruben Rodriguez and congero Chembo Corniel. In Montreal, backed by powerful 9-piece salsa band Ritmo Caribeño, she sang a Celia Cruz retrospective, which was repeated in July's jazz festival.
Caridad retains close family and musical ties to Cuba, and a love for her native country which is expressed proudly in her music.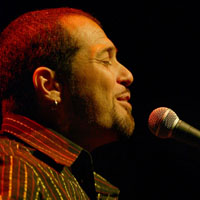 Carlos Placeres
Cuban-born singer/songwriter/guitarist Carlos Placeres delivers a lively mix of original songs and traditional Cuban classics in the guaracha, bolero, and rumba styles, often with a jazz and samba influence.
He arrived in Montreal from Havana in August 1996 with a musical repertoire that traces its roots to Spain, Africa, France and Italy. He's what Cubans call a "trovador," a modern-day minstrel who sings songs both romantic and political, accompanying himself on the guitar.
Today, Cuba's "trovadores" use a myriad of musical styles and instruments in their compositions. They're part of the "novisima trova," the new wave of Cuban songwriting. Poetry, social commentary and humour intersect in traditional and contemporary rhythms and melodies.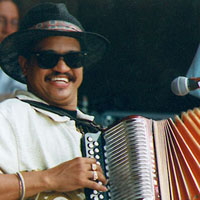 Joaquin Diaz
The "merengue" - the quintessential sound of the Dominican Republic - is "the fastest, most exciting music there is," insists accordionist Joaquin Diaz. "It's a bit like dancing on a roller coaster." Diaz is a self-taught musician who began his musical career as a child on the streets of Santo Domingo. He formed his first band at 12 years of age and was soon playing the most prestigious hotels of the city and catching the attention of elite audiences. In Canada since 1990, Diaz has formed a band of extraordinary professionals, experts on instruments geared to the traditional music of the Dominican Republic. It is Diaz' mission to make the stages of the world vibrate with the raw energy of the merengue. And, indeed, the group's premier CD, Merengue Mas Merengue, seems to have hit the public like a tropical storm. The second, Ola - meaning "wave in Spanish - has struck listeners with equal force. (Canada Council for the Arts)
Tickets and Special Offers
Price: $22
Tickets:
NAC Box Office
Ticketmaster: 613.755.1111
Online: www.quebecscene.ca
Barrymore's Music Hall
Quebec Scene Discovery Package
Buy any three shows from this list and your fourth one is free.*
* The free selection must be of equal or lesser value than the lowest priced show.
Get 4 shows for as little as $30!