Music
Ensemble Romulo Larrea, Tango First Century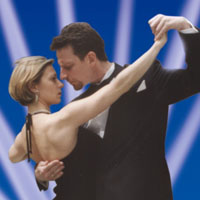 Cecilia Saïa and Ronen Khayat
Choreographed by Cecilia Saïa and Ronen Khayat, the Tango 1st Century dancers glide with impeccable technique through the dazzling, sensual moves of one of the 20th century's most beautiful dances, revealing all the power and beauty of the tango.
Cecilia Saïa: A native of Buenos Aires, dancer and choreographer Cecilia Saïa is a graduate of the Escuela Nacional de Danzas (Argentina) in classical dance. Her expertise in tango is acknowledged across North America and Europe. In 1995 she was featured in the acclaimed Broadway show Forever Tango (nominated for a Tony Award for Best Choreography), and went on to tour worldwide with Forever Tango and the equally successful Tango Passion. Broadway critics raved about her concept for and performance in Tango 1st Century.
Ronen Khayat: Ronen Khayat was born in Israel and immigrated to San Francisco in the late 1980s to train at the San Francisco Academy of Ballet. His growing fascination with the tango led him to study with some of the masters of the genre. His recent production credits include Tango Nuevo at Carnegie Hall and Dream of Tango at the Byham Theatre in Pittsburgh. Ronen combines his brilliant dance performances with a flourishing teaching career. Broadway critics have hailed his outstanding performance in Tango 1st Century.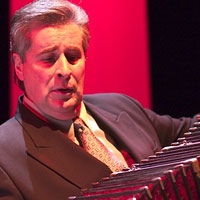 Romulo Larrea
Uruguayan by birth, Québécois by adoption, bandoneon virtuoso Romulo Larrea founded the Ensemble Romulo Larrea septet in 1990. Tirelessly explores the pulsating world of tango, the group has distinguished itself as an outstanding ambassador of the genre in international cultural circles.
The Ensemble performs a vast repertoire using an unorthodox combination of traditional tango trio (bandoneon, piano and double bass) and classical quartet (two violins, viola and cello). This unique approach gives them their signature sound: at once traditional and contemporary, delivered with technical mastery, sensitivity and elegance.
The Ensemble's concert concepts and recordings, collected in the Un siglo de tango series, are recognized internationally. Their dedication and discipline have allowed Romulo Larrea and his talented musicians to develop a unique approach to the genre that appeals to tango novices and experts alike.

Tango First Century
Featuring a cast of 14 artists
Ensemble Romulo Larrea directed by Maestro Romulo Larrea
Verónica Larc, vocals
3 tango dancing couples
Choreographed and directed by star dancers Cecilia Saïa and Ronen Khayat
The sensuality of tango comes alive as this Quebec-based troupe explores the evolution of this mesmerizing art form. Tango 1st Century highlights Paris in the Roaring Twenties, the unforgettable Carlos Gardel, the golden age of tango in the 1940s, and the contemporary tango of Astor Piazzolla.
Paris in the Roaring Twenties: Exotic and sensual, the tango quickly became popular in the exclusive Paris salons of the post-war years. Spinoffs included tango champage, tango dresses and even a colour called tango. Tango fever had struck!
Carlos Gardel: As early as 1917, Gardel's magnificent baritone voice had introduced thousands of music fans to the bewitching rhythms of tango songs. At the time of his tragic death in a plane crash in 1935, this beloved artist had conquered the heart of Argentina and established tango songs as the Argentinian equivalent of the blues.
The golden age of tango: In the late 1930s, all of Buenos Aires, with its many orchestras, was pulsating to the rhythm of the tango, planting the seed of a musical craze that would soon spread throughout the world.
Astor Piazzolla (1921–1992): A true visionary, this internationally renowned tango composer and bandoneon player revolutionized the traditional tango into a new style termed nuevo tango, incorporating elements from jazz and classical music. Widely considered the most important tango composer of the late 20th century, hailed in his native Argentina as "El Gran Ástor" ("The Great Astor"), he made an immeasurable contribution to the world's musical heritage.
Tango 1st Century offers a colourful tribute to the tango, a salute in music, song and dance to its rich history—and its future.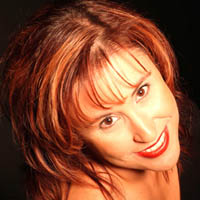 Verónica Larc
Born in Montevideo, Urugay, Verónica Larc is a third-generation member of a family of tango musicians. Nicknamed « La nueva voz del tango » (« the new voice of tango »), she brings her powerful and sensual voice to some of the most beautiful melodies of the repertoire, and her musical sensitivity evokes a universe that blends harmoniously into a century-old artistic tradition. Verónica has performed across Quebec and Canada and in Argentina, Uruguay, the United States, France and Germany, and is featured on the recorded series Un siglo de tango.
Tickets and Special Offers
Price: Adults from $25, Students from $13.75
Tickets:
NAC Box Office
Ticketmaster: 613.755.1111
Online: www.quebecscene.ca
Quebec Scene Discovery Package
Buy any three shows from this list and your fourth one is free.*
* The free selection must be of equal or lesser value than the lowest priced show.
Get 4 shows for as little as $30!