Music
Florence K

Presented by Salle La Basoche

RYTHMES NOUVEAUX SERIES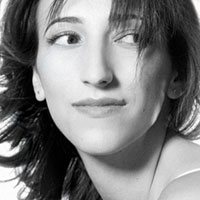 Florence K
Florence K's passion for music may have been ignited in utero. She was born to an opera singer mother and a guitarist-compser father. Musicwas predominant at home and at a very young age Florence began to accompany her parents to rehearsals, studio sessions and shows. By the time she was six she had performed on television for the first time. At sixteen she was singing duets with her mother and performing internationally on tour.
During her communication studies, Florence played piano at Stash Cafés. Facinated by World Music, she listened to and played pop, blues and jazz. Soon she began to perform in Atlantic City, Casablanca, Malaga, Hanoi and Monaco. Here she discovered a passion for songwriting, and began to seduce audiences around the world with her incredible voice and virtuosity on the piano.
Florence K writes music and sings in French, English, Spanish, Italian and Portuguese. In 2004, she released her first album Live au Lion d'Or on her own label, Red Blues. The summer of 2006 will welcome Bossa Blue, her first studio album.
Tickets and Special Offers
Price: Adults $20, Students $15
Tickets:
819.243.8000
Online: www.ovation.qc.ca