Music
Maison de la culture de Gatineau 15th Anniversary Celebration

Presented by Maison de la culture de Gatineau in collaboration with Quebec Scene Symbol of the artistic pride of an entire region, winner of three Félix awards (2004, 2005 and 2006), this Gatineau cultural institution hosts a 15th birthday party in grand style! It's a joyous celebration in music and song, emceed by singer/songwriter Boom Desjardins and singer Ariane Gauthier. Joining them on the stage of the Salle Odyssée are Marie-Élaine Thibert, Luce Dufault, Ricky Paquette and France Maisonneuve. A show sprinkled with happy memories, a show filled with the promise of the future, a show to enjoy and remember!
Ariane Gauthier
Ariane Gauthier was clearly destined for a career in the arts: her mother named her after Ariane Voyer, a singer she admired; her music-loving parents rocked her to sleep with French songs; and she comes from a family where every get-together begins and ends with a singalong!
Willingly embracing her musical future, the young Ariane took lessons in violin, piano, dance and voice. She made her public singing debut at a church recital in her native town of Aylmer, and at age 12 she joined the Gatineau music collective L'Artishow.
Ariane started writing her own songs while studying musical theatre at Collège Lionel Groulx. Soon after graduation in 2002, she landed the part that would launch her career: she was cast as Juliet in the popular musical Romeo and Juliet, and audiences and critics alike raved about her touching portrayal of Shakespeare's romantic heroine. The following year she appeared onstage with Céline Dion in Simplement Marnay, a gala tribute to the late Quebec songwriter Eddy Marnay held at the Maison de la culture de Gatineau.
Mon cœur est une pomme, Ariane Gauthier's first album of original songs, was released in summer 2005.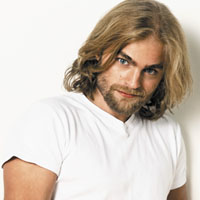 Boom Desjardins
Boom Desjardins hails from Val d'Or in Quebec's Abitibi-Timiskaming region. In 1993 he and guitarist Alain Villeneuve founded the band La Chicane, and just a year later they took first prize in a Radio-Canada music contest. In 1996 Martin Bédard, Christian Legault and Éric Lemieux joined the group. In 1997, having made their name in Abitibi, La Chicane moved to Montreal, and two years later signed a record contract with DKD Disques (a label developed specifically for them).
Boom Desjardins released his first solo album in 2004, and so far every one of his album singles has hit the top of the charts. With sales of over 130,000 albums, a sold-out concert tour, and exceptional performances at Quebec's Fête Nationale (in front of a crowd of more than 250,000 people), the ADISQ gala (Quebec's equivalent of the Junos) and the finale of the Star Académie television show (seen by more than 2.5 million viewers), Boom Desjardins has carved out a solid position as one of the most powerful voices in the French music industry. Previously, with La Chicane, he sold more than 500,000 albums and sang at the Olympic Games in Australia and at the Toronto SARS Concert with the Rolling Stones. Boom Desjardins was nominated three times at the 2005 Félix Awards/ADISQ gala.

France Maisonneuve
A fresh new voice on the Quebec music scene, France Maisonneuve is a talented singer/songrwiter with an intense yet unaffected style. For the past year she's been working with producer Toby Gendron on her first album. Like her live performances, it promises to be a first-rate musical experience.
Luce Dufault
A native of Orléans, Ontario, Luce Dufault has built a successful musical career on two continents.
It all started in a shopping centre in Aylmer, Quebec when she was 15—and singing with her back to the audience! With her first band, Stable Mates, she hit the Montreal blues circuit, where her accomplished rhythm 'n' blues repertoire and her warm, powerful voice quickly made her a favourite.
In November 1992, Luc Plamondon cast her as the groupie in his musical La légende de Jimmy, and the following year he gave her the part of Marie-Jeanne in his rock opera Starmania, a gig that would last two years, including eight months at the Mogador in Paris, a performance tour of France, Switzerland and Belgium, shows in Quebec City and Montreal—and a Félix award (Quebec), a "Victoire de la musique" award (France), and a once-in-a-lifetime opportunity to sing Le monde est stone to an audience of 21 million European TV viewers!
Luce returned to Montreal in 1995 and released her first album, working with such talented musicians as Dan Bigras, Richard Séguin, Daniel Lavoie, Pierre Flynn, Luc Plamondon, Christian Mistral and Marc Chabot. In 1997, with several radio hits to her credit, she won the Félix for Singer of the Year, and her debut album sold over 170,000 copies. She released her second album, Des milliards de choses, in 1998, followed in 2000 by a live acoustic album of her own favourites, from Etta James to Billie Holliday with a little Jacques Brel thrown in. Au-delà des mots was released in 2001 and Bleu in 2005, all to unanimous critical acclaim.
"She is definitely one of our top female singers—the ones whose talent endures, the ones musicians and poets can depend on for an inspired performance of their work." Rachel Lussier, La Tribune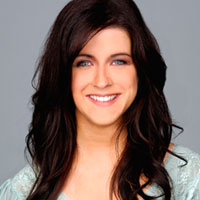 Marie-Élaine Thibert
Ricky Paquette
Born November 7, 1990 in Gatineau, Quebec, blues and rock guitarist and singer Ricky Paquette launched his career at an early age: he picked up his first guitar when he was nine… and magic happened! He and the guitar were clearly made for each other, and the young marvel had mastered the instrument within a year. Ricky incorporated the techniques of his guitar heroes into his own signature style, combining his love of the blues with classic rock. A versatile and energetic artist, he has been studying classical guitar at the Gatineau Music Conservatory for the last three years.
By the time he was 13, Ricky had become a mainstay of the Ottawa blues community. The Junkyard Dogs, Trevor Finlay, Fernando Jones (Chicago), Paul Deslauriers, Mud Boys and many more regularly invited him to sit in at local blues sessions. It was around this time that Ricky started to sing, rounding off his exceptional guitar abilities. He's an excellent blues and rock singer who can deliver a song with compelling energy and emotion.
Ricky was performing with his band Ricky and the Soulbenders (and spending every spare minute practising and refining his technique) when Quebec blues veterans started to recognize the young artist's talent. He has since opened for or appeared with Steve Hill, Bob Walsh, Jimmy James, Nanette Workman, Trudy Lynn (Texas ), Breen LeBœuf, Éric Lapointe, Jean Millaire, Jim Zeller, Bob Staggs, Paul Deslauriers, Guy Bélanger, and many other established Montreal and Quebec blues musicians.
In April of 2005, when he was only 14, Ricky launched his solo career and signed a contract with Montreal's Preservation Music Inc. Watch this space: Ricky Paquette is just getting started!

Tickets and Special Offers
Price: $69
Tickets:
Odyssée Hall Box Office
819.243.2525