Music
À Propos Songwriters' Sessions

Copresented by Quebec Scene and CBC Radio One
Hosted in English.,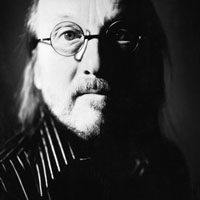 Jim Corcoran
Jim Corcoran is familiar to music fans across the country as the host (since 1988) of À propos, CBC Radio One's Saturday-night showcase for French-language popular music from Quebec and around the world. He's also one of Quebec's best-loved songwriters, greatly appreciated for his subtle lyrics, his beautiful melodies and his witty sense of humour. In a career spanning over three decades, Jim has performed internationally and released a dozen recordings.
He started out in the 1970s as half of the folk duo Jim et Bertrand (with Bertrand Gosselin), and launched his solo career in 1981. That year saw the release of his first solo album, Têtu (winner of the Félix award for Best Folk Recording), followed in 1983 by the equally successful Plaisirs. However, it wasn't until the mid-80s that his popularity really took off.
In 1990 Jim released Corcoran, on which he juggled with language and experimented with various musical styles. In C'est pour ça que je t'aime, for example, he uses 76 verbs, while Je me tutoie lasts all of 47 seconds.
His sixth solo album, Portraits (1996), confirmed his status as one of Quebec's most popular singer/songwriters. His 2000 release, Entre tout et moi, is both refreshing and profound, an insightful exploration of the twists and turns of life and love.
Jim Corcoran's latest album, Pages blanches, was released in 2005 on the Audiogram label.
Source : Radio-Canada Espace Musique, www.radio-Canada.ca/radio2 (transl.)
Mario Peluso
Thanks to his Italian and Métis ancestry from Quebec's Timiskaming region, he looks like a guy who spends winters in the sun. A piercing gaze, a shock of jet-black hair that contrasts sharply with his dazzling white smile. Forever handsome, forever young, every inch the urban cowboy with his Western boots and his guitar slung over his shoulder. The songs, like the singer, range from fishing trips in the wilds of northern Quebec to the acrid tang of fresh asphalt on the streets of downtown Montreal.
Acclaimed for his work with Isabelle Boulay (La Lune, J'ai mal à l'amour), Laurence Jalbert (Je m'ennuie de chez-nous) and Véronic DiCaire (La neige nue), this talented singer/songwriter has the gift of crafting folk melodies with instant appeal—witness his many awards, including Song of the Year for Je t'appelle at the 1997 Ma première Place des Arts music competition (for which he also wrote the theme song) and the 1999 Prix Québec/Wallonie-Bruxelles.
His latest album, Minuit -5, released in 2006, is his fifth since he moved to Montreal in the early 1990s. "When I first got here," he recalls, "I used to practise in the Métro, because the walls of my apartment were paper-thin." The constant public exposure kept him authentic, and slowly but surely he rose out of the Métro and onto the stages of small performance venues, then major clubs—Montreal's Spectrum, Rouyn's Théâtre du Cuivre. Eventually he toured to France, where eager audiences ate up his folk songs about the wide open spaces of his native land.
Mario also knows how to surround himself with equally gifted artists. Over the years he's collaborated with singer/songwriters Christian Mistral, Cébastien, and most recently François Vigneault (Gilles' son and Guillaume's brother). From the start, he sought out mentors who could help him pinpoint his true musical persona,and learned the rudiments of staging from the late Gaston Mandeville and Michel Pépin (who worked with Jean Leloup). They played a large part in forging Mario Peluso's unique sound, with its echoes of wood, water, fire and earth, and the dust to which all human emotion must come.
Mario Peluso has released five recordings to date: Malgré tout (1998), Mario Peluso (2000), Au Café des écorchés (2002), One Beautiful Day (2004), and Minuit -5 (2006).

Michel Rivard
Michel Rivard—the "human orchestra"—is a writer, composer, singer/songwriter, guitarist, comedian and monologist. Born in 1951, the son of actor Robert Rivard, he loved music and theatre from an early age, and by the early 1960s he was appearing regularly in TV series such as Rue des pignons and commercials.
During the 1970s he worked as a composer, director, actor and singer with various companies, including the subversive vaudeville troupe La Quenouille bleue, the Théâtre Sainfoin, the Théâtre populaire du Québec, and Les Pichous. He was a founding member of Quebec rock group Beau Dommage and stayed with them until they broke up in 1978. (The band reunited briefly in 1984 for two performances, and in 1994 for an album tour of Quebec.)
Michel Rivard launched his solo career in 1977, opening in Paris for singer Maxime Leforestier and releasing his first solo album, Méfiez-vous du grand amour. For a few years he teamed up with Rick Haworth and Mario Légaré as the Flybin Band, released several more albums, and honed his comedic talents in his live performances. A frequent winner at the annual ADISQ Gala, he received Félix awards for best performance script (1980), best video clip (for Rumeur sur la ville, 1985), singer/songwriter of the year (1987), best pop album (1987), best show of the year, and performer of the year. In 1988 the Académie Charles Cros awarded him the International Grand Prize, and at the 2004 ADISQ Gala his 30-year career was honoured with the Félix for lifetime achievement.
Multidisciplinary artist extraordinaire, Michel Rivard has also found time to write songs for other performers, including Gerry Boulet, Pauline Julien, Maxime Leforestier, and Marie Michèle Desrosiers.
Source: Radio-Canada Espace Musique, www.radio-Canada.ca/radio2 (transl.)

Monica Freire
Bahiatronica, the name of Monica Freire's latest album, is a fusion of the words "Bahia" and "electronica," reflecting the rich heritage of this Brazilian-born artist who moved to Quebec in the 1990s.
Monica Freire was born in Itabuna in the Bahia region, cultural cradle of Brazil, of Afro-Brazilian music and the land that inspired Gilberto Gil, Caetano Veloso and Joao Gilberto. There, her African, Syrian/Lebanese, Portuguese and indigenous roots found fertile ground.
Quickly parachuted into Brazilian showbiz, Monica reached star status at 17 when she took over from Daniela Mercury as lead singer of the band Bloco Pinel. Encouraged by the success of that venture, she left Brazil a year later to travel around the Caribbean and to France and Montreal, expanding and perfecting her musical talents along the way.
Arriving in Montreal in 1993, Monica joined fellow Brazilian Paulo Ramos and his ensemble… but she still had the travel bug, and in 1996 she left for Japan, where she was a huge hit. She released her first two solo albums, Monica and Monica II, and toured them throughout Japan.
In September 2005 she released the acoustic-electronic mix Bahiatronica, produced in collaboration with her fellow musician and life partner, Dan Gigon (they met when they were both members of the Ensemble Paulo Ramos). On the album, the samba and bossa nova rhythms of Monica's native land are given a subtle electronic treatment that enhances rather than masks their traditional sound. Pierre Flynn's song Ma petite guerrière takes on a Brazilian hue, and Moustaki's version of Jobim's Les eaux de Mars gets a surprising new interpretation.
Source: Radio-Canada Espace Musique, www.radio-Canada.ca/radio2 (transl.)
website: Radio-Canada Espace Musique

Urbain Desbois
Urbain Desbois (a.k.a. Luc Bonin) made his first public appearance in April 1993 on the stage of Montreal's Cheval Blanc. A unique and memorable character, a creative hybrid of pocket poet and masterful musician, he rapidly attained cult status. Growing weary of duplicating self-produced audiocassettes, he signed with the La Tribu label, and between 2000 and 2003 released no fewer than three albums: Ma maison travaille plus que moi, États d'âne, and Entomologie. Unanimously acclaimed for his clever and elegant texts, Urbain was officially welcomed into the global family of singer/songwriters.
Catapulted commando-style into opening for such names as Thomas Fersen, Arno, and Renaud, the galvanic motormouth quickly won audiences over with his bewildering charm, and soon ascended to the status of featured act. In the spring of 2007, after crisscrossing his native province on performance tours and dabbling in a few other projects (film scores, musical improv, acting…), Urbain released yet another album (his fourth) on the Audiogram label.
A long time in the making and by far his most accomplished release, La gravité me pèse—produced by Jean François Lemieux and recorded by Pierre Girard at Studio Parleur—breaks new creative ground. The texts expand beyond the quasi-haiku format to a more elaborate classic verse/couplet, the music is more evolved, the arrangements more complex; the new tunes irresistibly catchy… Next thing you know, Urbain Desbois will have us on the dance floor!
Tickets and Special Offers
Price: $20
Tickets:
NAC Box Office
Ticketmaster: 613.755.1111
Online: www.quebecscene.ca
Quebec Scene Discovery Package
Buy any three shows from this list and your fourth one is free.*
* The free selection must be of equal or lesser value than the lowest priced show.
Get 4 shows for as little as $30!