Music
Pat The White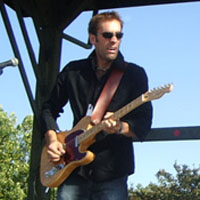 Pat The White
Born in Carleton in the Gaspé region of Quebec, Pat The White has become known in a remarkably short time as a seasoned blues guitarist and signer. His self-titled recording includes performances by Nanette Workman on vocals, Guy Bélanger on harmonica and Jody Golick (from the Stephen Barry Band) on saxophone. His second recording Reviver (2005) has been critically acclaimed and has received admiration from fans for his legendary tribute to the Allman Brothers classic The Whipping Post. After hundreds of sold out shows, festivals and television appearances, Pat The White has earned a numerous and loyal fan base that is growing every week. It is no wonder that he has won The Male Artist of the Year (2003) and Best Performance (2004) at the Lys Blues Gala in Montreal; Pat The White is accompanied by some of the best musicians in Quebec: Vincent Carré on drums, Jean- Francois Poirier on electric and double bass; Christian Leblanc on keyboards and André Lavergne on electric and slide guitars. When they play, they are always asked to come and play again. They have made two special trips to Mississippi where they have worked with some of the most important blues players of the Delta. Pat The White and his band are a must to see and experience live!...
If you are lucky enough to see Pat The White live, if you have the critically acclaimed new recording Reviver (2006) or perhaps you have seen him during the Montreal International Jazz festival (2006) where fifteen thousand people came to see the best blues guitarist, singer, performer this side of Canada; then you are familiar with the great music of Pat The White described by Voir magazine as pure pleasure for lovers of guitar, a soulful voice and an incredible band One thing is certain; Pat The White and his band are on their way to becoming one of the most important new blues bands. They are always on the road to play new places and to make new fans from Quebec to Mississippi and Chicago
TEXT BY RANDALL SPEAR...

Tickets and Special Offers
Price: $15
Tickets:
NAC Box Office
Ticketmaster: 613.755.1111
Online: www.quebecscene.ca
At the door (1 hour before showtime)
Quebec Scene Discovery Package
Buy any three shows from this list and your fourth one is free.*
* The free selection must be of equal or lesser value than the lowest priced show.
Get 4 shows for as little as $30!