Music
Montreal Jubilation Choir & the Jubilation Big Band

It was supposed to be a one-night gig, but 25 years later, Professor
Trevor W. Payne is still directing one of the most prestigious gospel choirs on the continent. The Montreal Jubilation Choir (MJC) has performed across Canada, the United States and Europe, bringing audiences to their feet at every venue with their infectious enthusiasm and energy. Over the years the MJC's repertoire has expanded beyond traditional and contemporary gospel music to embrace Gregorian chant and modern jazz, and recently they've been exploring the roots of Black American music with a Zulu beat. Backed by the Jubilation Big Band, this dynamic 50 voice ensemble is sure to raise the roof!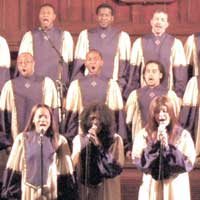 Montreal Jubilation Choir & the Jubilation Big Band
Trevor W. Payne has called Montreal home since his family moved to the city from Barbados when he was 10. He enjoyed modest success in the 1960s as the leader of the pop group 'Trevor Payne and the Triangle' (later: Kanda Kanda] --- a band which performed with Van Morrison, Jefferson Airplane, the Doors, April Wine, Jethro Tull, Joe Cocker, Johnny Winter, and others. Feeling restricted by the simplicity of pop music and by his own lack of training, Payne gave up the band to study at McGill's Faculty of Music in 1971. He plays piano, organ, saxophone, violoncello and percussion instruments.
In 1974, Payne formed a youth choir based at Union United Church. The group disbanded for a time, but reassembled for a special concert in 1982 to mark the church's 75th anniversary. Intended as a one-time event with Oliver Jones and Ranee Lee as co-performers, the concert was a smash success and launched the Payne-led Montreal Jubilation Gospel Choir to its current status as one of North America's most dynamic and popular choirs. The choir's first record, Highway to Heaven, garnered the group the Outstanding Recording Artist Award from the Association of Gospel Music Ministries. The choir was invited to contribute a track to Voices, an award-winning compilation of the world's best choral music.
Tickets and Special Offers
Price: $37.75 (plus Capital Renewal Fund fee)
Tickets:
Centrepointe Theatre Box Office
613.580.2700
Online: www.centrepointetheatre.com