Music
Alain Lefèvre
Nine-time winner of the first prize at the Canadian Music Competition, lauded by critics around the globe, this young phenomenon is one of the world's foremost solo pianists. The Montreal Gazette reported, "Alain Lefèvre has a genial and outgoing talent. He lives every measure of the music, and draws his audience into a warm partnership." Join him for an intimate concert of music by Schubert, Boudreau, Rachmaninov, Prokofiev, and Quebec composer André Mathieu, whose works Lefèvre has revived with elegance and flair.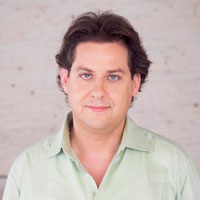 Alain Lefèvre
Described as a "new personality [who] truly stands out from the typical trends and artifices offered on the international scene" (Classica), pianist and composer Alain Lefèvre has been a guest soloist with the Royal Philharmonic Orchestra in London, the SWR in Stuttgart, the Hamburg Symphony and the Nürnberg Symphony, the Detroit Symphony, the National Symphony in Washington, the Houston Symphony, the Pacific Symphony (Santa Ana, California), the Philharmonie de Lorraine, the Montreal Symphony Orchestra, the Toronto Symphony and the Moscow Virtuosi, to name just a few. He has also worked with such renowned conductors as Christoph Eschenbach, Charles Dutoit, Matthias Bamert, Vladimir Spivakov, Yan Pascal Tortelier, Clair St-Clair, Jukka-Pekka Saraste and Georg Tintner, and with composers Pierre Max Dubois, Henri Dutilleux and John Corigliano. As a composer, his debut CD Lylatov (released in 2000 on the Audiogram label), was praised by listeners and critics alike, as was his 2002 release Carnet de notes (Analekta).
Alain Lefèvre performs regularly at numerous international festivals, including Cervantino, Istanbul, Epidauros, Wolf Trap, and the Montreal Highlight Music Festival. He has appeared on the stages of Pleyel, Gaveau, and Châtelet in Paris, the Kennedy Center in Washington, Irvine Meadows and the Orange County Performing Arts Center in California, the Molson Centre in Montreal, Roy Thomson Hall and Glenn Gould Studio in Toronto, Oji Hall in Tokyo, Megaron in Athens, Centro Nacional del Artes in Mexico, La Scala in Milan, the Beethovensaal in Stuttgart, and in many other countries worldwide. He is a nine-time winner of the first prize at the Canadian Music Competition, and was also awarded first prize in piano and chamber music at the Conservatoire National Supérieur de Musique de Paris (while a student of the esteemed Pierre Sancan, who saw in Lefèvre "one of his most brilliant disciples, destined for a great career").
Alain Lefèvre's recordings—which have earned him four Felix Awards—cover a vast repertoire, including John Corigliano's remarkable Piano Concerto, considered by many critics to be the definitive version. "Alain Lefèvre is spectacular." (Fanfare)

(Source: www.alainlefevre.com)
Tickets and Special Offers
Price: Adults $30, Students $15
Tickets:
NAC Box Office
Ticketmaster: 613.755.1111
Online: www.quebecscene.ca

At the door (1 hour before showtime)
Students tickets are half price for this event