Music
McGill Chamber Orchestra
The MCO is one of Canada's most prestigious classical ensembles. Over the years it has attracted Montreal's finest musicians and maintained the highest performance standards. Lyric tenor Gideon Zelermyer joins the orchestra and its director, internationally renowned conductor Boris Brott, in a concert of works by Mozart, Tchaikovsky, and MCO founding director Alexander Brott.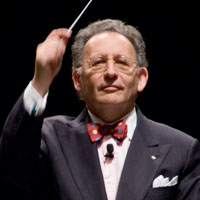 Boris Brott
Boris Brott is one of the most internationally recognized Canadian conductors, holding major posts as music director in Canada and the United States. He enjoys an international career as guest conductor, educator, motivational speaker and cultural ambassador.
Mr. Brott has won prizes in major international competitions: the Pan American Conductors Prize in Mexico, the Liverpool Conductors Competition in Great Britain, and the Dimitri Mitropoulos International Conductors Competition in New York, where he joined the ranks of Seiji Ozawa and Claudio Abbado as a Gold Medal Winner. In 1987, Mr. Brott was awarded Canada's highest civic honour, Officer of the Order of Canada. He was awarded an Honourary Doctorate of Law in 1988 at McMaster University, was made a Knight of Malta in 1990, selected as "International Man of the Year" by the International Biographical Center, in Cambridge England in 1992 and was elected a Fellow of the Royal Society of Arts of Great Britain in 1996.
Boris Brott has commitment to the development of new audiences and young artists. His programs have received rave reviews, in particular, a series of concerts bringing to life the great classical composers. The National Academy Orchestra, a unique mentor-apprentice program, in which emerging young musicians gain invaluable experience from working with seasoned professionals, stands as the centerpiece of his music festival in Ontario, Canada.

Orchestre de chambre McGill
The McGill Chamber Orchestra is one of Canada's most established chamber orchestras. It was founded by Artistic Director, Alexander Brott, and his wife, Lotte who served the orchestra as cellist and Manager. The MCO began in 1939 as the McGill String Quartet and quickly grew into an ensemble, which had as its members the principal teachers of the Faculty of Music of McGill University. Eventually, the MCO evolved to an ensemble of international standard featuring Montreal's finest musicians, many of them principal players in the Orchestre symphonique de Montréal. It also has a reputation of featuring the world's greatest artists in regular concert series at Place des Arts and in the Montreal urban community.
The MCO is a piece of Quebec's bedrock artistic history. It is one of the first artistic organizations in the province of Quebec that has managed to present the highest artistic standards coupled with fiscal responsibility. Moreover, at no other time has it been more important to remember and celebrate our history, particularly with organizations that have as successfully served both French and English cultures. This rock-solid foundation is thanks to the work of the Brotts, a dedicated Board of Directors, and a loyal audience.
The MCO has occupied an important place in Canada's classical music scene since its founding. The MCO has given numerous Canadian musicians the opportunity to perform high quality music at a professional level and to be a part of one of Canada's most established chamber music ensembles. Over the years, the Orchestra has employed Montreal's finest musicians in order to maintain the highest standard of performances.

Tickets and Special Offers
Price: Adults $25, Students $12.50
Tickets:
NAC Box Office
Ticketmaster: 613.755.1111
Online: www.quebecscene.ca

At the door (1 hour before showtime)
Students tickets are half price for this event
Quebec Scene Discovery Package
Buy any three shows from this list and your fourth one is free.*
* The free selection must be of equal or lesser value than the lowest priced show.
Get 4 shows for as little as $30!