Music
Alexandre Da Costa, violin / Wonny Song, piano
The critics rave about Alexandre Da Costa's impeccable technique, evident passion for music, energy, and exceptional musicality. He's definitely a young artist to watch!
The Washington Post praised Wonny Song as "an adaptable, intelligent, and profoundly musical young pianist." Now in his early 20s, this Korean-born Canadian prodigy is already well on the way to a promising international career.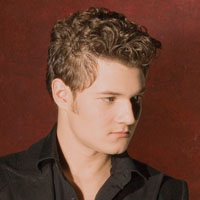 Alexandre Da Costa
Alexandre Da Costa was born in Montreal Canada in 1979. He shows an uncommon interest for both the violin and piano at a very early age. By the age of nine, he has the astounding ability to perform his first concerts with stunning virtuosity on both instruments, which brought him recognition as a musical prodigy. His chosen professional career as a violinist begins very early and he is soon performing regularly as soloist with orchestra as well as in recital.
In 1998, at the age of 18, he receives a Master's degree in violin and a Premier Prix from the Conservatoire de Musique du Québec where he studies with Johanne Arel. Concurrently, he also received a Bachelor's degree in Piano Interpretation from the faculty of music of the University of Montreal. From 1998 to 2001, he studies at the Escuela Superior de Música Reina Sofia in Madrid with the violin master Zakhar Bron who formed Maxim Vengerov and Vadim Repin. In 2002, he wins the Sylva Gelber Foundation Award. Between 2003 and 2006, after winning the Musical Instrument Bank competition of the Canada Council for the Arts, he plays the 1689 Baumgartner Stradivarius.
Winner of many prestigious national and international first prizes, he appears as soloist throughout Canada, the United States, Mexico, and many countries in Europe and Asia. Between 1998 and 2006, he records many CDs for the XXI-21 Record label, among them the world premiere recording of violin Concerto by Portuguese composer Luis de Freitas Branco. This recording is received with great acclaim by the critics and music lovers around the world, and is nominated at the JUNO Awards 2006.
All reviews are unanimous in saluting Alexandre's faultless technique, inherited directly from the Russian School, his exceptional energy and musical talent. Alexandre da Costa now plays the 1667 "Dubois" Stradivarius and a Sartory bow, courtesy or the Canimex.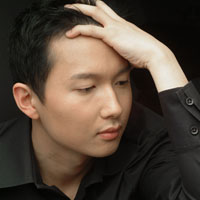 Wonny Song
Mr. Song's career include a solo recital as Canada's musical ambassador to the 1993 World Expo in Korea and a 1998 performance in Bangkok at the closing ceremony of the Asian games, an event attended by Thailand's Royal Family. Mr. Song returned to Korea in 2005 to perform in the opening concert of Seoul's new Chungmu Art Hall with the EuroAsian Philharmonic Orchestra conducted by Gum Nan-se.
Mr. Song was born in South Korea and grew up in Montreal. He began piano studies at the age of eight and received a full scholarship to Philadelphia's Curtis Institute of Music in 1994. He earned a Bachelor's degree from Montreal University in 1998 and continued his studies with Anton Kuerti at the University of Toronto and at the Glenn Gould Professional School with Marc Durand. Awarded the first Elinor Bell Fellowship at the University of Minnesota in 2000, he completed his Doctoral studies there with Lydia Artymiw in 2004.
Mr. Song's first CD, a recording of Mussorgsky's Pictures at an Exhibition and Rachmaninoff's Variations on a Theme of Corelli, has been released on the Canadian label XXI-21 Records with rave reviews and is currently on top of the classical charts in Canada. His next CD will feature Granados' Goyescas and is scheduled to be released for the 2007-08 season.
In 2003, Mr. Song was featured in a special volume profiling 100 Korean-Canadians of Note, which was published by Canada's Korean newspaper, the Korea Times
Korean-Canadian pianist WONNY SONG is "a versatile, intelligent, and deeply musical young pianist," says The Washington Post. Still only in his mid-20's, Mr. Song has already begun an exciting international career.
Tickets and Special Offers
Price: Adults $25, Students $12.50
Tickets:
NAC Box Office
Ticketmaster: 613.755.1111
Online: www.quebecscene.ca

At the door (1 hour before showtime)
Students tickets are half price for this event
Quebec Scene Discovery Package
Buy any three shows from this list and your fourth one is free.*
* The free selection must be of equal or lesser value than the lowest priced show.
Get 4 shows for as little as $30!