Theatre
King Dave
Written by Alexandre Goyette
Directed by Christian Fortin / With Alexandre Goyette
Produced by L.I.F. :T. (Les idées flottantes: Théâtre)
Presented in French.
David Morin, a.k.a. "King Dave," a young man with something of a teenager still about him, thinks he's invincible. However, one night at a wild party, his life starts to spin out of control, and he's inexorably drawn into the violent world of street gangs. An astonishing one-man show, this first play by playwright and performer Alexandre Goyette won the prestigious Masques (awards) for Best Original Script and Best Performance by a Male Actor, 2005. A darkly gripping, breathlessly suspenseful blend of horror and humour.
"Quebec sensation's show a must. Maniacal energy, eagerness and humanity." Matt Radz, The Gazette (Montreal)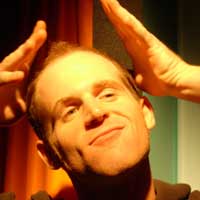 Alexandre Goyette, writer/performer
Alexandre Goyette is a 2002 graduate of the Cégep de Saint-Hyacinthe theatre program and the co-founder of Montreal-based theatre company L.I.F:T (Les idées flottantes : théâtre). He has appeared on television in Grande Ourse, Providence, Minuit, le soir, and most recently in La promesse; for film, he performed in François Bouvier's Miss Météo and Ricardo Trogi's Intersection. Stage credits include La fausse suivante (directed by Claude Poissant) at Théâtre du Nouveau Monde; Les zurbains (Benoit Vermeulen) at Théâtre Le Clou; Méphisto (Daniel Paquette) and Babel (Brigitte Poupart) at L'Espace Go. With L.I.F:T, he has appeared in Le génie du crime and Pièce d'identité.
(Source : www.cead.qc.ca [transl.])
Tickets and Special Offers
Price: Adults $20, Students $15
Tickets:
NAC Box Office
Ticketmaster: 613.755.1111
Online: www.quebecscene.ca
Quebec Scene Discovery Package
Buy any three shows from this list and your fourth one is free.*
* The free selection must be of equal or lesser value than the lowest priced show.
Get 4 shows for as little as $30!