Music
The Stills, Karkwa, The Besnard Lakes, Mahjor Bidet

Four emerging bands that are really making noise, an intersection of the best in Quebec's English and French musical cultures. The Stills, darlings of 1980s-inspired alternative rock (Echo and the Bunnymen, The Smiths) – and new ambassadors of Montreal's English-language rock scene; The Besnard Lakes' retrofitted classic-rock grandeur to indie-rock dimensions have forged their own special niche – space-rock that's down to Earth; Karkwa, sound that is by turns atmospheric and tense, somewhere between Radiohead and Noir Désir; and finally, Mahjor Bidet, featuring such talents as Serge-André Amin (Sergeant Dré ) and his sidekick Renaud Bastien from Malajube, with an inventive, dynamic and original project that mixes distorted guitars, atmospheric keyboards and sublime voices in catchy, wonderful melodies.

Hailed by the critics, adored by audiences! The best of Quebec rock, together on stage for one night only! A major happening that will be broadcast live on Bande à partand CBC Radio 3.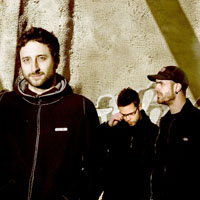 Karkwa
Like many new groups, Karkwa rocketed to public attention after appearing in the Cégeps en spectacle annual music competition. Soon afterwards, the Office franco-québécois pour la jeunesse invited them to represent Quebec at the prestigious "Le printemps du Québec" cultural celebration in Paris in the summer of 1999. Back in Quebec after that momentous experience, they performed with various groups including Kalembourg, Redcore, Ludger, and Mort de rire.
In 2001, they performed together as Karkwa at the 7th Francouvertes francophone music competition, where they made it to the finals. Encouraged by their success, they went on the road and started planning their debut album, Le pensionnat des établis, released in 2003 to unanimous critical acclaim. Their performance network expanded to include such major events as the Festival de musique émergente, Coup de cœur francophone (Montreal and Quebec City), the FrancoFolies de Montréal, and more.
The members of this quintet—whom some have likened to a BritPop ensemble—see themselves first and foremost as a collective of artists who use music and song to share their reactions and responses to the world around them. In the summer of 2005 the group went back into the studio with co-producer Pierre Girard (who has worked with Fred Fortin, Mara Tremblay and the Colocs). The result was everything they could have hoped for, and it was a more mature, more confident Karkwa that launched Les tremblements s'immobilisent (Audiogram) in early November 2006.
Website : www.radio-canada.ca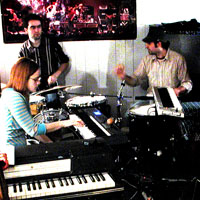 Mahjor Bidet
In the early days, Mahjor Bidet was musician and professional soundman Serge-André Amin. For years he'd been working solo on original compositions, combining guitar riffs and electronic remixes, constantly deconstructing and reconstructing the sounds and instruments around him.
Determined to give his material wider exposure, he recruited longtime friend and fellow musician Renaud Bastien, multi-instrumentalist for Malajube and one-man musical encyclopedia. Huddled in their creative grotto, they fine-tuned their electro-alterno repertoire, throwing in batteries, bass guitars, guitars, keyboards and mikes and effectively annihilating the robot slumbering in the heart of the revered General MIDI.
Sick and tired of languishing on a computer hard drive, the songs demanded to be set free. Friends and fellow musicians were recruited to beef up the recording: the vocals of keyboardist and singer Chantal Boulais gave depth and humanity to the increasingly cheery mix, while bassist Alexandre Gauthier, frontman for Kamendja, lightened up the low notes.
The first song attracted attention from the moment it was posted on Myspace. A cynical reflection on the banality of everyday life, Painful Love was heard by millions of listeners, including André Péloquin, host of CISM Radio's Plectrum. He quickly included the cut in the show's lineup, and on October 8, 2006 it hit #1 on the francophone charts... a groundbreaking MP3 that announced the arrival of Mahjor Bidet.
The "real live" group grew to include Daniel Bédard (master drummer for Sharcüt) and Robert Tétrault, whose high-tech arsenal can make a single guitar scream like World War III. At last, the elite quintet of Mahjor Bidet was ready to take the stage. The fall of 2006 was packed with concerts and other appearances; songs proliferated and cried out for distribution. 2007 started off with a bang with the release of La vie qui fitte avec la tapisserie, which had already garnered extensive advance praise.
Now sit back and listen, and be warned that once you let Mahjor Bidet into your life, their sound will stick in your brain for a good long time.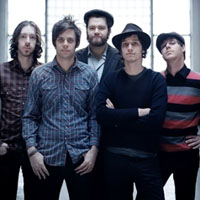 The Stills
The Montreal four-piece the Stills are nothing like Interpol, but like those New York City suit-wearing hipsters, the Stills create a stately post-punk sound quite obviously inspired by the likes of Echo & the Bunnymen and Joy Division whether they intend to or not.
Having known one another since the age of 12, vocalist Tim Fletcher, drummer Dave Hamelin, guitarist Greg Paquet, and bassist Oliver Crowe played in various bands until forming the Stills in 2000. These art-school students moved from their beloved Canada for a two-month stay in N.Y.C. to design a lush, swarthy pop style with the help of a four-track recorder. Rumour has it that the Stills helped a friend in Barcelona who was in need of some drug money and, in return, he gave the Stills this fancy machine. In turn, the lads found themselves sleeping on friends' couches in the East Village in summer 2002 with a batch of songs. A deal with Vice followed before the year's end; however, joint shows with the Music, the Rapture, the Streets, and Yeah Yeah Yeahs as well as Interpol were what cemented the Stills a dominating spot among the ever-changing rock scene.
The Rememberese EP appeared in June 2003 and stateside dates with Interpol followed that fall. The band's full-length debut, Logic Will Break Your Heart, arrived in October. After several tours of the U.K. and North America, the Stills headed into the studio to record a second album in late 2004. In September 2005, the band announced the departure of founding member Greg Paquet. Hamelin changed roles, switching from drums to fill Paquet's spot on guitar. Touring keyboardist Liam O'Neil and Sea Ray drummer Colin Brooks were also added to the lineup. The resulting Without Feathers, released in 2006, was a total departure for the group, relying less on new wave and post-punk and more on rootsy, '70s heartland rock.
Source: MacKenzie Wilson, All Music Guide

Tickets and Special Offers
Price: $25.00
Tickets:
NAC Box Office
Ticketmaster: 613.755.1111
Online: www.quebecscene.ca

At the door (1 hour before showtime)
Quebec Scene Discovery Package
Buy any three shows from this list and your fourth one is free.*
* The free selection must be of equal or lesser value than the lowest priced show.
Get 4 shows for as little as $30!
Sights and sounds - Bandeapart
++The Stills

++Karkwa

++Patrick Watson

++Mahjorbidet