Storytelling and Literature
L'Âge de la parole : Paul-Marie Lapointe
Performed by Alain Doom
Staged by Stefan Psenak
Presented by the NAC French Theatre in collaboration with the National Arts Centre Orchestra and the Fourth Stage.
In the years immediately following World War II, Quebec was inundated with new ideas and unprecedented connections, and poetry surged forth with unheard-of (literally) vitality. This wave of new poetry—foregrounding the shape and sound of language and rich, unfettered imagery—spurred a general ideological shift in the way Quebecers perceived themselves. By putting words to things and ideas previously hidden, the poets framed new possibilities and revealed unsuspected colours and textures in familiar landscapes, both external and internal.
The influence of the post-war generation of poets extends to the present day, particularly in the way Quebec perceives itself and its place in the world. Their poems are still read, and their vision is still current.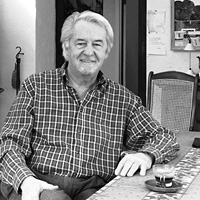 Paul-Marie Lapointe
Paul-Marie Lapointe is one of Quebec's most honoured poets and a central figure in the world of newspapers, magazines and broadcasting. His poetry has been widely translated. He was born in Saint-Félicien, Quebec in 1929, and studied at the Chicoutimi seminary, at Collège Saint-Laurent and finally at the École des Beaux-Arts de Montréal. As a journalist, he worked as a reporter for L'événement (Quebec City, 1950–54), La Presse (Montreal, 1954–61), and the Nouveau Journal (Montreal, 1960–61), and as editor-in-chief of Maclean's (1963–69). From 1969 to 1992 he held various positions at Radio-Canada. He was one of the founders of the Montreal-based literary quarterly Liberté, and worked for the publisher Éditions de l'Hexagone. His numerous awards and honours include the Prix Athanase-David (1971) for lifetime artistic contribution; the Governor General's Literary Award for Poetry (1971) for his anthology Le Réel absolu; the International Poetry Forum Award (Pittsburgh, PA, 1976); the Prix La Presse (1980); the Prix Léopold-Senghor (1998) for world poetry in the French language; and the Prix Gilles-Corbeil (1999) for lifetime artistic achievement. Paul Marie Lapointe is a member of the Union des écrivaines et des écrivains québécois. He received an honorary doctorate from the Université de Montréal in 2001.
Tickets and Special Offers
Price: 16 $; Étudiants : 8 $
Tickets:
NAC Box Office
Ticketmaster: 613.755.1111
Online: www.quebecscene.ca
Students tickets are half price for this event