Theatre
Assoiffés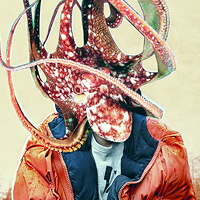 Théâtre Le Clou ~ Assoiffés
By Wajdi Mouawad
Directed by Benoît Vermeulen
Assistant director: Marie-Ève Turcotte
Produced by Théâtre Le Clou
Co-presented with Théâtre la Catapulte
Ages 14 and older.
Presented in French.
Through Murdoch, a teenager who can't stop talking, and the transparently vulnerable Norvège, Boon - a forensic anthropologist - revisits his own adolescence... and awakens the ghost of a longforgotten dream. The energy, passion and anguish of adolescence, skilfully captured by playwright Wajdi Mouawad and masterfully directed by Benoît Vermeulen, take over the stage in another innovative and compelling production from Théâtre Le Clou.
Théâtre Le Clou
Théâtre Le Clou specializes in theatre for young audiences, focusing on three distinct areas: plays for teens, plays for young adults, and "Les Zurbains"—contemporary stories by teenage aspiring writers and professional playwrights. Unpredictable, funny and touching, these entertaining yet thought-provoking works appeal directly to young people's hearts and minds.
Founded in Montreal in 1989, Théâtre Le Clou has performed to over 300,000 people in Quebec, Canada and France. Co-artistic directors Monique Gosselin, Sylvain Scott and Benoît Vermeulen continue to develop their individual artistic practice while working closely together as a creative team.
The company believes that every performance is a unique and special opportunity to communicate with the audience, and that it's essential that young people be exposed to works that relate to their own lives and experiences. Le Clou is effectively an R&D centre for stage writing and directing, with a collaborative approach that extends from initial concept right through to opening-night performance.
"The teenage years are an extraordinary time, full of passion, idealism and freedom. That's the energy we tap into artistically. Our plays show our young audiences that theatre can have a lot of latitude: it's an art form that can be amazing and challenging, and it has the power to enrich our understanding of the world and ourselves."
Wajdi Mouawad
Over the past 15 years, playwright, director and actor Wajdi Mouawad has established himself in Canada as in Europe as a uniquely original player on the contemporary theatre scene. Acclaimed for his compelling style and uncompromisingly disciplined theatre aesthetic, he has built an international reputation for deeply humanist theatre that examines the human experience with keenness and compassion, and emphasizes the power of the actor as spokesperson in the fullest sense of the word. In his writing as in his directing, Wajdi Mouawad explores the tension between the importance of individual freedom and the no less essential renunciation of the self. On this subject he is fond of quoting Kafka: "In the struggle between yourself and the world, back the world."
Wajdi Mouawad was born in Lebanon, grew up in France, and moved to Quebec in 1984. He is a graduate of the National Theatre School of Canada and the former artistic director (2000–04) of Montreal's Théâtre de Quat'Sous and cofounder of Théâtre Ô Parleur. In September 2006 he was appointed Artistic Director, French Theatre at Canada's National Arts Centre in Ottawa (effective September 1, 2007).
A powerful and original player on the Quebec theatre scene, he has worked as a writer/adaptor and director Montreal's leading theatres. He is the author of over a dozen plays, including Willy Protagoras enfermé dans les toilettes (winner of the award for Best Montreal Production 1998 from the Association québécoise des critiques de théâtre), Rêves, Incendies/Scorched, and Littoral/Tideline (winner of the 2000 Governor General's Literary Award for Drama), which he also adapted for film. 2006 saw the premiere of Forêts (the third part of a tetralogy begun by Littoral and Incendies) at L'Espace Malraux de Chambéry at francofffonies! le festival francophone en France, an international
Tickets and Special Offers
Price: Adults, Seniors $15 / Students, Children $11
Carte Liberté holders: Adults, Seniors $12.50, Students $10, Children $7.50
Tickets:
La Nouvelle Scène Box Office
613.241.2727, ext. 1