Theatre
Le Fantôme de Canterville

Written and directed by Véronique Daudelin, Jean-François Hamel, Olivier Normand, and Klervi Thienpont
Produced by Le Théâtre des 4 coins
Co-presented with Théâtre la Catapulte
Presented in French.
Le Fantôme de Canterville (The Canterville Ghost)
England, 1889. For a modest sum, an American family buys the fabled Canterville Manor, haunted since the 16th century by the ghost of Sir Simon of Canterville, guilty of an atrocious crime. To his great consternation, the new owners don't seem the least bit afraid of him... Théâtre des 4 coins' colourful, imaginative adaptation of the short story by Oscar Wilde offers an irresistible blend of whimsy, humour and satire.
Oscar Wilde
Oscar Wilde—playwright, poet, novelist, short story writer and aesthete—was born in Dublin in 1854. After brilliant studies at Oxford, he settled in London, where he shocked Victorian society with his extravagant lifestyle, cynical attitude and audacious plays, many of which were banned. It was his novel The Portrait of Dorian Gray that launched his literary fame. In those days homosexuality was considered a crime, and for his passionate relationship with the young Lord Alfred Douglas, Wilde was sentenced to two years of hard labour. He died in poverty in Paris in 1900. Wilde was renowned for his sharp wit: upon arriving in New York in 1882 to give a series of lectures, he is said to have told a customs officer, "I have nothing to declare but my genius."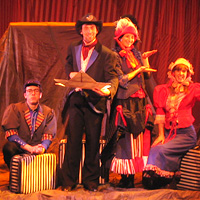 Théâtre des 4 coins
Based in Quebec City, Théâtre des 4 Coins creates original plays for teenage audiences. The company's light-hearted approach appeals to young imaginations and opens up a world of astonishing creative possibilities. Staging and performance options are constantly being reshaped in what is essentially a party with the audience! It's a perfect match for this living art form and for the boundless energy of the company's young founders. Le Fantôme de Canterville is their first production.
Tickets and Special Offers
Price: Adults, Seniors $15 / Students, Children $11
Carte Liberté holders: Adults, Seniors $12.50, Students $10, Children $7.50
Tickets:
La Nouvelle Scène Box Office
613.241.2727, ext. 1