Theatre
Contes d'enfants réels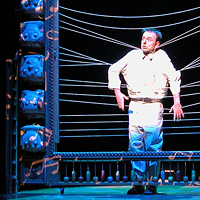 Carrousel ~ Contes d'enfants réels
Written by Suzanne Lebeau
Directed by Gervais Gaudreault
Produced by Le Carrousel, compagnie de théâtre
Presented by the National Arts Centre French Theatre
Ages 8 and older
Presented in French.

The things that go on, unfold, happen, don't happen, and/or are concocted on any given day in any household between any parents and any children are a lot funnier, a lot crazier, a lot more surprising, and (sometimes) a lot more bizarre than anything that ever happened - once upon a time - to Little Red Riding Hood, Puss in Boots or Cinderella. Any parent can tell you that - and so can any child! As playwright Suzanne Lebeau writes, "Being an adult and having children, being a child and having adults means finding out about love and pain, tenderness and anger, and compromise." Welcome to the real world of real children.
The original 1993 production of Contes d'enfants réels received awards for Outstanding Production for Young Audiences from the Quebec Theatre Critics' Association and the Académie québécoise du théâtre.
Suzanne Lebeau, playwright
Suzanne Lebeau holds a B.A. in arts and education and also trained as an actress, studying in Montreal under Gilles Maheu and Jacques Crête (1970–73), in Paris under Étienne Decroux, and in Wroclaw, Poland at the Pantomime Theatre and Puppet Theatre.
Cofondatrice et codirectrice du Carrousel, elle a joué et écrit principalement pour cette compagnie depuis 1975. Engagée dans l'écriture et l'animation depuis vingt ans, elle poursuit sans relâche sa recherche sur l'univers des enfants, tentant de repousser à l'infini les limites du permis, du moral, du possible. La plupart de ses textes ont été traduits, certains en plusieurs langues, et ont connu des productions dans le monde entier.
After co-founding Le Carrousel, a Montreal-based children's theatre company, with Gervais Gaudreault in 1975, Suzanne gradually gave up acting to devote herself exclusively to writing. For over two decades she has been exploring the world of children, enriching young imaginations and constantly questioning what's "allowed," what's "right" and what's "possible." Today, with more than 20 original plays to her credit, she is internationally recognized as a leader in playwriting for young audiences, and is among the most-performed Quebec playwrights in the world. Most of her plays have been translated (many into several languages) and produced internationally.
The importance of Suzanne Lebeau's work and her exceptional contribution to the rise of the genre of theatre for young audiences, both in Canada and abroad, have earned her many prizes and awards, including: Chalmers Children's Play Award (1986) for Les petits pouvoirs/Little Victories (English translation by Maureen LaBonté); Grand Prix de théâtre du Journal de Montréal/Union des écrivains et écrivaines du Québec (1991) for Conte du jour et de la nuit; Association québécoise des critiques de théâtre award for Best Play for Young Audiences (1987–88) for Gil; the same award in 1994 for Contes d'enfants réels, which also won the award for Best Production for Young Audiences (1994) from the Académie québécoise du théâtre. For Salvador she received the Francophonie jeunesse award (1994) from Radio France Internationale/Francophonies théâtrales pour la jeunesse and the Prix littéraire de la citoyenneté du département de Maine et Loire (France) (2002). For L'Ogrelet, she won the 1999 Masque (award) for Best Original Script from the Académie québécoise du théâtre, and the 2000 Prix Teatralia at the Festival Teatralia in Madrid. In 1998, the Assemblée internationale des parlementaires de langue française appointed her a Chevalier de l'Ordre de la Pléiade for her lifetime body of work.
She taught dramatic writing at Canada's National Theatre School from 1990 to 2001. In 1993–94 she was the first playwright-in-residence (theatre for young audiences) at La Chartreuse, Centre National des Écritures du Spectacle (France), one of the most important drama development centres in Europe; in 2002 she was profiled in Itinéraire d'auteur, n° 6: Suzanne Lebeau, published by La Chartreuse.
Sources: www.cead.qc.ca, www.lecarrousel.net

Tickets and Special Offers
Price: 12$ (adults and children)
Tickets:
NAC Box Office
Ticketmaster: 613.755.1111
Online: www.quebecscene.ca